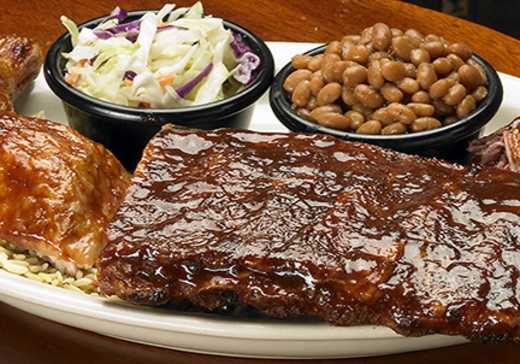 Chattanooga has come a long way since its days as America's dirtiest city. But there's a certain kind of smoke we welcome on our horizon…the hickory smoke rising from our local barbecue pits. Chattanooga 'Q comes in many shapes and sizes, a veritable melting pot of barbeque styles.
Generally speaking we like slaw on our pulled pork sandwiches and our sauces are a cross between Kansas City style (sweet and thick) and Piedmont (tangy with a bit of zip), often spiked with Tennessee whiskey. But the beauty of Scenic City barbeque is you can get just about any style you please, from Texas beef brisket to North Carolina's trademark vinegar sauce. Here are some highlights.
Sugar's Ribs?
2450 15th Avenue, 423-826-1199
Sugar's signature ribs – which are crunchy outside and fall-of-the-bone inside – are the result of the restaurant's patented wood-fired grill, an invention of owner Lawton Haygood. But the secret just might be in the sauce. Just for good measure they offer six, ranging from a vinegary Carolina Red to a thicker Tennessee Sweet & Goopy. But the brave will want to try Hot Lips, a sauce with a slow, lingering burn from jalapenos, habaneros, garlic and onions roasted on aforementioned grill. For convenience they have two locations. Downtown offers a slightly expanded menu, while East Ridge offers beautiful views and quirky décor, including a multi-level deck overlooking the restaurant's pet goats.
Sticky Fingers Smokehouse?
420 Broad Street, 423-265-7427 or
2031 Hamilton Place Boulevard, 423-899-7427?
?Sticky Fingers technically isn't local, but we claim it since the downtown location was one of the first outside of Charleston and the original owners have Chattanooga ties. After 20 years and 16 locations, you know Sticky Fingers is doing something right. Perhaps it's the fall-off-the-bone delicious ribs, the smoked chicken wings or the classic pulled pork. Or maybe it's the five house-made sauces: Memphis Original, Carolina Classic, Tennessee Whiskey, Carolina Sweet and Habanero hot. Either way you can get your Sticky Fingers fix either downtown or out by Hamilton Place Mall. Should you fall in love with one of their specialty sauces, don't despair. They're sold online as well as in 5,000 grocery or specialty stores across the country.
Shuford's Smokehouse Barbecue and Catering?
924 Signal Mountain Road, 423-267-0080?
Housed in a converted gas station, Shuford's is a bona fide Southern BBQ experience. Inside the gray board-and-batten building, Roll Tide paraphernalia covers the wooden walls mixed with a few of Chattanooga's famous faces like Dennis Haskins. The mismatched tables and chairs in the 500-square-foot dining room are always chockfull thanks to hand-pulled pork and a top secret house-made sauce. But the pork, chicken, turkey and ribs are smoked without rub or sauce, allowing the hickory smoke to cure it for a rich, earthy flavor. If you're headed to Signal Mountain, stop by Shuford's for a taste of authentic Chattanooga 'Q.
Rib and Loin?
5946 Brainerd Road or 5435 Highway 153 (Hixson), 423-499-OINK (6465)
For more than 20 years Rib and Loin has been serving up some of Chattanooga's best BBQ, earning "Best of the Best" awards from the Chattanooga Times Free Press five years in a row. Locals Paul Plumlee and Yogi Center started Rib and Loin in 1989, transitioning from the deli business to smoking mouthwatering chicken, ribs, pork and beef seven days a week for up to 14 hours. Feel free to pig out at either location – Brainerd or Hixson – and expect traditional trimmings and desserts like fried okra, green beans, coleslaw and trademark banana pudding. Insider tip: try the baked potato stuffed with your choice of barbeque pork, chicken or beef.

Famous Dave's
2122 Gunbarrel Road, 423-954-3227?
Okay, so we can't claim Famous Dave's. But after 685 barbecue awards, we welcomed him to town. After all, each cut of meat is smoked in house starting around 4:00 a.m. every day. And his wide variety of barbeque specialties were developed from Dave's unending passion for smoked meat, taking him on a cross country quest to barbeque meccas like Memphis, St. Louis and Kansas City. The first Famous Dave's opened in Wisconsin in 1995 and people have been licking their fingers ever since. Some sides to try are the Wilbur baked beans and firecracker green beans. And save room for dessert, which runs the gamut from banana pudding to a hot fudge Kahlua brownie sundae.
JC's Family BBQ
9070 Highway 58, 423-485-3481?
Located just three miles north of Harrison Bay State Park, JC's has a little something for everyone, from a grilled chicken salad to hickory smoked, hand-cut ribeye steak. Of course barbeque is their specialty with fall-off-the-bone ribs, generous portions of pulled pork and smoky BBQ chicken. Their daily specials are not to be missed, including all you can eat hand-breaded catfish and ribs (on Fridays and Saturdays respectively. Like any great Southern BBQ joint, the food is served in a cozy log cabin atmosphere and there's plenty of homemade cobbler to top off your meal.
???