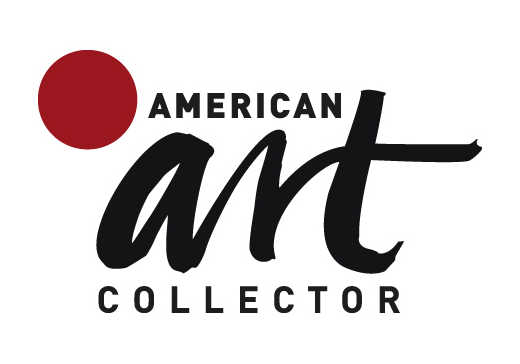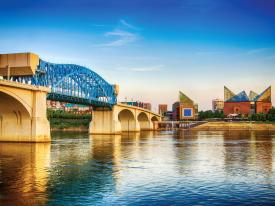 Last year the Chattanooga Area Chamber of Commerce rolled out a new marketing campaign that included a song-and-dance number that praised the Tennessee city. The number ended with a cheeky catchphrase: "Chattanooga, Literally Perfect!" The ads, which touted the city's arts and culture as well as its growing tech sector, were done in a playful spirit and happily winked at the audience – at one point the city is referred to as the "Tom Hanks of places" – but the campaign tapped into a growing sense of excitement that had been building in Chattanooga. A sense that the city was, and still today, blossoming into a cultural hub for arts, adventure, creativity and innovation.
The innovation part hits you as soon as you step off the plane at the airport, where visitors are immediately greeted with a sign that says, "Gig City Welcomes You!" Gig City, I assumed, was because Nashville, country music epicenter, was 130 miles to the northwest, and all those musicians would need, you know, music gigs. Residents are patient with visitors who make this mistake; the "gig" in Gig City refers to gigabytes after Chattanooga launched the first ultra-high-speed internet service in 2010. Fast internet speeds not only brought savvy, young tech entrepreneurs, it also signaled a remarkable new view about the future and where Chattanooga – home to the Moon Pie, the first major Coca-Cola bottling plant, and Usher-would fit into it. Not content to be left behind, the city embraced its forward-looking perspective, and today it's reaping the benefits across many spectrums.
Chattanooga, home to more than 175,000 people, sits comfortably between Nashville to the northwest; Birmingham, Alabama, to the southwest; Atlanta to the southeast; and Charlotte, North Carolina, to the east. The city, which is found around a curl in the Tennessee River, is at the southern foot of the Appalachian Mountains and copious amounts of outdoor adventure, including hiking, rock climbing, mountain biking, hang gliding, kayaking and canoeing, camping and other open-air activities. It's these adventurous pastimes that have long been held sacred by Chattanooga residents and continuously draw visitors who seek the beauty of nature, the thrills of the wild lands and the climbable, rideable and floatable terrain.
Another area that is exceedingly important to Chattanooga's still-blossoming character is its arts and culture. The city has a number of major destinations, including the Hunter Museum of American Art, which houses incredible works of American art, including major pieces from William Merritt Chase, Robert Henri, Sanford Robinson Gifford, Childe Hassam, William Trost Richards and many others. The collection is housed in a modern building, with views out over the Tennessee River and nearby MacLellan Island, as well as an adjacent mansion built in 1904 that houses some of the collection's American masterpieces.
Just outside the main entrance visitors have easy access to the Chattanooga Glass Bridge that leads directly to its famous Walnut Street Bridge, a pedestrian-only route across the river. Also outside the Hunter, and down the street slightly, is the Houston Museum of Decorative Arts, which houses the collection of Anna Safley, who came to the city in the late 1800s and amassed a glass and ceramic collection estimated at 15,000 pieces.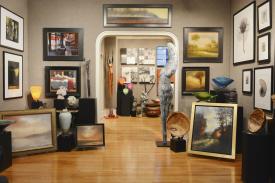 Both museums are part of the Bluff View Art District, which also contains the River Gallery and the River Gallery Sculpture Garden. The gallery is home to dozens of regionally and nationally known artists in a wide variety of mediums. The sculpture garden, which is owned by the gallery, is down the road slightly, in a lovely spot that overlooks the river. The 2-acre outdoor space features monumental works in bronze, steel and aluminum.
Other public art destinations are Meg Saligman's 40,000-square-foot Martin Luther King Jr. mural on the side of an AT&T building, various statues and monuments positioned all around town, and The Passage at Ross's Landing, a "waterwalk" featuring fountain-like steps to honor some '+,000 Cherokee people who were forced onto the Trail of Tears in 1838. Just outside the downtown area is Sculpture Fields at Montague Park, a 33-acre international sculpture site that features as many as 35 monumental works, including major pieces from modern masters such as Linda Howard, Mark di Suvero, Doug Schatz, Jane Manus, George Schroeder, Gary Kulak, Albert Paley and John Henry, the chair and curator of the site. Henry, whose large-scale steel sculptures have been seen around the world, maintains a home and studio with views out over the park and is one of Chattanooga's top artists.
One of the driving forces behind Chattanooga's art presence is the Association for Visual Arts, a nonprofit organization that has dedicated itself to connecting the community to the arts. Not only does the group host art shows in two gallery spaces at its Chattanooga headquarters, it also hosts events such as the annual AVA Gallery Hop and the annual 4 Bridges Arts Festival, which brings together more than 150 artists and 1,000 collectors under a unique pavilion west of the downtown area. The event, this year held on April 21 and 22, features art booths in which each artist presents new works and mingles with guests. One group that works extensively with AVA is ArtsBuild, a statewide organization based in Chattanooga. It offers educational opportunities to people of all ages, workshops for artists, the ReGenerate art leadership program for high school students, the four-month-long Holmberg Arts Leadership Institute and various grants to artists. ArtsBuild makes its home in the Arts Building near Chattanooga City Hall. The building also houses the nonprofit Scenic City Clay Arts, a community pottery studio.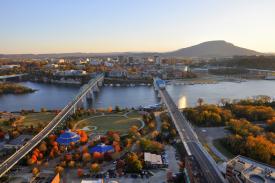 Also based in the Arts Building is Townsend Atelier, a 2,000-square-foot space that offers art classes of all varieties, a fine art materials shop to help artists with their next project and an exhibition space. Townsend Atelier is plugged into the community and often offers classes from nationally recognized artists from a variety of mediums, from printmaking and pastels to sculpture and collage. "My husband and I have been in the art community for a long time, so we enjoy making things happen for artists and students," says owner Peggy Townsend. "When we opened 10 years ago we knew Chattanooga was primed with the talent and desire. It was a leap of faith, but it's been incredible to see people come from all around the country to participate in this great art community.''.
Another unique venue for art is the ArtSpace-Chattanooga WorkSpace, which occupies a building that was once a nursing home. The space was renovated in 2012 and turned into artist suites and collaborative spaces where creative people of all types can work, show, and sell their art. Meandering down the halls reveals a fascinating group of artists: sculptors, painters, interior designers, fashion designers and even musicians as such as popular local guitarist Rick Rushing III.
Other important venues and organizations include the Bessie Smith Cultural Center, an African-American cultural site named after the "Empress of the Blues"; the Creative Discovery Center, a children's museum in the heart of the city; and Jazzanooga, an educational organization that aims to bring people together to appreciate jazz music. Prominent galleries include area 61 gallery, Brent Sanders Studio & Gallery, Gallery 1401, Hart Gallery and iGNiS Glass Studio, where guests can view and purchase original glass works, as well as learn how to make their own.
"It's just a really fun place to live," says painter Mia Bergeron, who's lived in the city for ll years. "Not only is it beautiful here with lots of outdoor places to visit and see, but Chattanooga offers so many resources for artists, not to mention really great prices-it's very affordable to live and work here. Of course, I don't want prices to go up as more and more people discover the city, but I'm also excited about watching it bloom and grow."
Russian-born painter Timur Akhriev, who came to the city 15 years ago, says Chattanooga is a model city for how it treats and respects artists. "It's quite amazing here, and I'm lucky that I've been here long enough to see it grow and develop," he says. "The people are incredibly nice, and everywhere you go there is beauty-we're surrounded in this pocket of beautiful mountains." Akhriev adds, "This is the kind of environment artists always hope to be in."
EAT
Owner and award-winning chef Erik Niel brings a taste of Louisiana to a robust menu – cleverly grouped into "Small;' "Medium" and "Large" segments-of brisket, seafood gumbo, a variety of Ii.sh and duck confit.
Located in a restored turn-of-the-century hotel that was once a brothel and slated for demolition, St. John's offers an elegant take on American classics. Perfect for romantic dinners out.
With a stellar food menu and deep and creative drink offerings, STIR's local claim to fame is it's pioneering of artisanal, hand­cut ice. Don't leave without sampling it in one of its famous hand-crafted drinks.
Main Street Meats is "devoted to the reemergence of the traditional Southern neighborhood butcher shop!' The eatery boasts a, large wine list and a bar with seafood from three coasts.
Located in a renovated Colonial Revival Mansion, the cafe offers upscale cuisine inside a warm and inviting dining area that includes a library, two sunrooms and a terrace overlooking the Tennessee River.
Voted frequently as Chattanooga's best pizza, Lupi's brings the freshest ingredients to its pies courtesy of Flying Turtle Farm, its local source for organic vegetables and the freshest meats.
STAY
Recently renovated, the Dwell Hotel is on the site of a Civil War-era fort. Today the 1909-built hotel has a retro design and a unique flare for style, with curated art and a vintage aesthetic.
With scenic views of Lookout and Signal mountains, the Westin is a beacon in the downtown area. A recent project added pedestrian-friendly cobblestone streets, festival and event spaces, and restaurants.
The downtown hotel just underwent $20 million in major renovations to create more modern spaces from top to bottom, from the 242 guest rooms to the lobby and restaurants.
Published April 2018. View PDF. Written by Michael Clawson