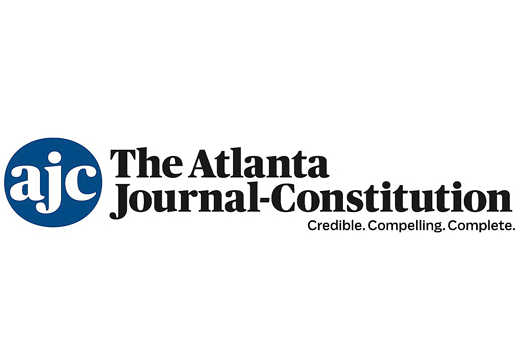 Growing up in Alabama, I remember visiting Chattanooga many times on weekend family excursions and Boy Scout outings. We never actually went to Chattanooga proper, but to Lookout Mountain six miles southwest of the city to visit Rock City, see Ruby Falls and ride the Incline Railway. Or we went to the Chickamauga battlefield for camping and history lessons about the Civil War. Except for a visit to the famous choo-choo, tourists setting foot downtown were unheard of back then because there wasn't much to see or do.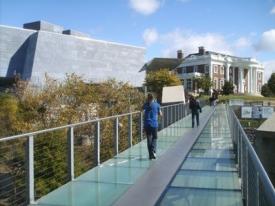 What a difference three decades make. Thanks to some visionary, long-range planning, and the added benefit of its location along a big bend in the Tennessee River cradled by scenic Appalachian ridges, Chattanooga made a 180-degree turn from the seeming ghost town I remember from my youth. Nowadays, in my capacity as a travel writer who covers the South, I'm often asked what my favorite city is. Without hesitation, I invariably say Chattanooga. When explaining why, those time-honored Lookout Mountain attractions don't even come up (although seeing them remains a must, especially if traveling with kids).
"There's a bustling downtown and vibrant, re-energized neighborhoods nearby," I say. "It's not too big and it's not too small. Plus, there are mountains close by and it's on the water." That's a near-perfect combo for me. It helps that Chattanooga is less than a two-hour drive from Atlanta.
What happened to spark this change? In a nutshell, the Tennessee Aquarium opened on the banks of the river downtown in the early 1990s. It soon became a marquee attraction to rival those on the mountain. Importantly, it helped fuel a downtown revitalization that spread to other parts of town, neighborhoods like hip and historic Northshore across the river and revitalized Southside with its hostel, bakery, butcher shop and numerous eateries and watering holes, all thriving.
Connecting these parts of town is a free electric trolley service making stops along the way. You can take the trolley from the aquarium on the riverfront to the Chattanooga Choo Choo on the other side of town without worrying about hailing a taxi or rideshare service.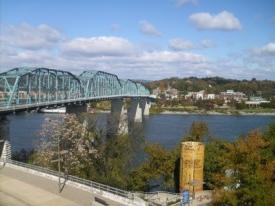 You can also walk or bike across the river to Northshore on the Walnut Street Bridge, an old steel truss highway bridge converted into a pedestrian pathway. Coolidge Park, the city's major in-town greenspace, sits at the foot of the Walnut Street Bridge on the Northshore side. Rent bikes from Outdoor Chattanooga inside the park to explore the Riverwalk, which extends beyond the downtown area for a scenic riverside ride. For those feeling more adventurous, the company provides hang gliding and whitewater rafting excursions.
Although it's not served by the electric trolley, another neighborhood worth visiting is the Bluff View Art District. Perched atop soaring stone cliffs overlooking the river, this sleepy 1.5-block district feels removed from the rest of the city and has an old-world European vibe with its historic houses, gardens and plazas. There's an inn, restaurants, a coffee shop, bakery, sculpture garden, bocce ball court and great views of the city, river and mountains.
Next door, the clifftop Hunter Museum of American Art has an impressive collection housed in a sleek, modern building and a historic mansion. A glass pedestrian bridge over an expressway in front of the museum leads downtown, making it an easy walk to the aquarium and other attractions along the riverfront at Ross's Landing. The landing serves as Chattanooga's front porch and is home to events and festivals throughout the year, including the Riverbend Festival, a large multi-genre music festival held each June.
At a recent Riverbend Festival, I stood on the steps of Ross's Landing taking in the crowd while watching a band perform on a stage on a barge in the river. I saw families with young kids all around me and marveled at how far Chattanooga had come.
IF YOU GO
Where to Eat
Public House
Fancy but non-snooty Southern dining. Entrees start at $17. 1110 Market St. 423-266-3366.
Terminal Brewhouse
An expansive menu of comfort food and house-brewed beer. Entrees start at $11, burgers at $8. 1464 Market St. 423-752-8090.
Taqueria Jalisco
Authentic Mexican street tacos in a cozy, out-of-the-way atmosphere. Under $10. 1634 Rossville Ave. 423-509-3430.
Where to Stay
Bluff View Inn
An idyllic setting high above the river. $125 and up. 411 E. Second St. 423-265-5033.
Chattanooga Choo Choo
Stay in a Pullman train car on Track 29. $119 and up. 1400 Market St. 423-266-5000.
Crash Pad
A hostel. $38 and up. 29 Johnson St. 423-648-8393.
Tourist Information
Chattanooga Visitors Center
215 Broad St. 423-756-8687, 800-322-3344.
Published online on July 7, 2018: Written by Blake Guthrie