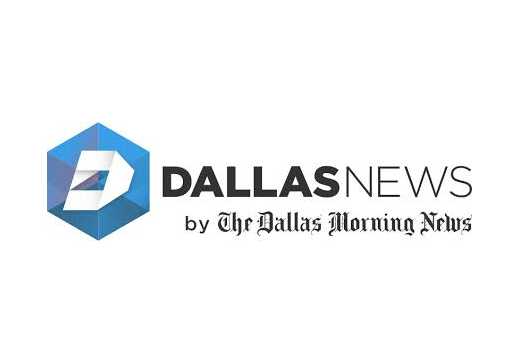 Science says playing is good for the mind, body and spirit, so how about making your next vacation about fun and games? A boom in grown-up playgrounds gives you new reasons to hit two of the New South's most winning cities: Chattanooga, Tenn., and Richmond, Va.
Chattanooga: High-tech and old-school fun
Edging the Appalachian Mountains and straddling the Tennessee River, this exuberant city has long been revered by lovers of water sports, hang-gliding, rock-climbing and cave-exploring (underground Ruby Falls plunges 145 feet within Lookout Mountain). Now, you can get your game on all over town.
After Chattanooga fired up America's first citywide fiber-optic gigabit network in 2010, innovators flooded in, boosting demand for offerings from food to fun. Gig City's genius spirit is now enhancing pleasurable pastimes. Electric surfboarding, virtual-reality hang-gliding and a stunning 60-foot translucent climbing wall make this an awesome place to visit.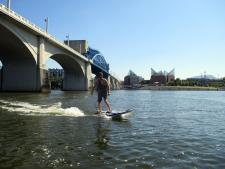 Even novices can easily revel in exhilarating land, water and virtual-reality sports thanks to Adventure Sports Innovation, which was launched in July by adrenaline junkies who curate cutting-edge next-gen adventure gear from inventors around the world.
Sixteen choices include electric Swincar e-Spider electric ATVs with wheels that operate independently to zip quietly across rough terrain; electric watercraft from bodyboards to surfboards and pontoon-bicycles for cruising the Tennessee River; and footpad-powered e-skateboards and e-unicycles you can ride down Chattanooga's scenic Riverwalk. Expert guides get you started quickly and keep you moving smoothly. Trust me, there's nothing like zooming 25 mph on a bodyboard up and down the Tennessee River.
Inside, virtual-reality thrills include walking the Vertigo plank between skyscrapers on a kitty rescue mission and safely hang-gliding on Flymax, soaring through clouds, looping mountains and side-swiping trees. For $10, design your dream roller coaster using a 3D tablet, then slip on a VR headset, slide into coaster seats in a 4D experiential theater and rock 'n' roll on your custom coaster.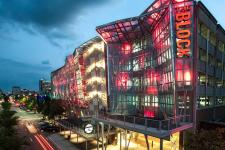 High Point Climbing and Fitness, a mega indoor-outdoor gym in downtown Chattanooga, offers a diversity of rope routes, auto-belays and boulders for learning to master finger and footholds while working your core in new ways. Topping the outdoor features is a wowza 60-foot-high transparent outdoor climbing wall with city, river and mountain views. Across the river in Coolidge Park, Outdoor Chattanooga offers low-cost guided paddling, mountain biking and climbing outings. Downtown offers several convenient equipment-rental businesses.
At two game halls opened in 2015, visitors feel like locals in minutes. Southside Social's sprawling luxury rec room features a cool 10-lane bowling alley with comfy sitting areas (no plastic chairs here), pool tables, skee ball, ping-pong, shuffleboard, giant Jenga, and in the outdoor courtyard, fire pits, ping-pong tables, horseshoes and cornhole. Get a Chatt Whisky Slushy at one of the friendly bars, and chase hunger away with cheap fresh-made tacos, pizza and fried green tomatoes.
Over in the revitalized Martin Luther King District, Coin-Op's retro bar/arcade is decked out with the owner's childhood toys and classic video games, Guardians of the Galaxy and other hip pinball machines, and free Xbox and Nintendo 64 gaming. Cereal for noshing and spirited regulars, some with their dogs, add to the vibe.
Another way to play like a kid: Take a hike at Signal Mountain and plunge beneath waterfalls at Rainbow Lake.
The historic Chattanooga Choo Choo hotel complex downtown has recently been transformed into a hip entertainment hub with new offerings along freshly cobblestoned Station Street ranging from Songbirds, the new guitar museum, to Escape Experience Chattanooga, where high-tech gizmo-magic mimics the sensations of an out-of-control train. There's usually a fine concert going on with unique bands such as Gangstagrass, which infuses hip-hop with bluegrass instruments.
At riverfront Coolidge Park, play in the big fountain ringed with animal sculptures and ride the grand carousel.
Recreational eating
Smoked cookery and ping-pong fills Hi-Fi Clyde's big space. Across the street, elevated comfort food draws lively groups to the Feed Table and Tavern. Nearby, the new Signal concert hall inhabits an industrial-chic warehouse. Walk a few steps for brews on the deck at Chattanooga Brewing Co.
Downwind from Coin-Op, sit by new OddStory Brewing's open garage-door windows and pair pretzels made from spent grains with a pint of Madman or Cherry Limeade Gose.
R&R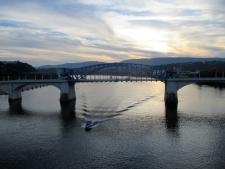 Snoozing is amusing here. Crash for the night at the new riverside Westin Chattanooga after playing Marco Polo in its sleek high-up pool or cards in its Alchemy Lounge, which faces the mountains. The Crash Pad is a friendly LEED platinum-certified hostel, and quirky-cool Dwell Hotel, with its new dining oasis and starlit cocktail bar, is among a fresh crop of boutique hotels serving fun-lovers.
Bonus points
New and nonstop flights from Dallas, free electric downtown shuttles running daily every 5 minutes, and the low-cost Bike Chattanooga bikeshare (ride up to an hour at a time).
Published online on October 23, 2018: Written by Robin Soslow