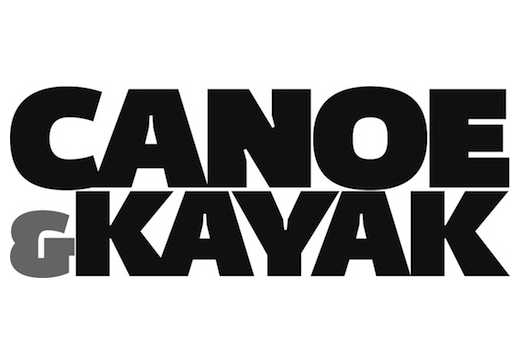 Chattanooga, Tennessee is hands down one of the best paddling towns in the Southeast. From flatwater to Class V, the small mountain city has something for everyone whether it's SUPing through the Tennessee River Gorge, steep creeking down Suck Creek, or convincing one of your best friends to paddle the iconic Ocoee River for her first-ever paddle.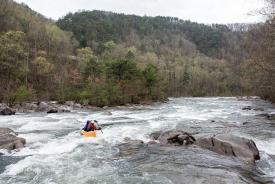 Glendra Craig grew up in Chattanooga and regularly visits her family, who all still live there. Reflecting on it, she refers to Chattanooga as "the town you can raise your kids in." She recounts days spent playing at Lake Winnie or hanging out with friends and family downtown, of course walking along the beautiful Walnut Street Bridge, and even now eating at the Aretha Frankenstein, and going to the Tennessee Aquarium.
But when I asked her about the town's outdoor culture, she just responded, "I didn't know there was one?" So, with the help of a couple of my local friends last weekend, Craig got to discover Chattanooga's wild side.
I first had met Rich Moore while canoeing at Ain't Louie Fest a few years back, and we really got to be good paddling buddies while living in Asheville, North Carolina together. A bit of a nomad most of his life, Moore had lived in several other places, including Crested Butte, Colorado and Greenville, South Carolina, before finally calling Chattanooga his home.
"The people are laid back, and it's smack in the middle of much of the best creeks and cliffs and boulders for climbing," Moore said. He's also someone who's shown-slash-comforted me down some of my first-time runs, so I knew he'd be great. He was stoked at the opportunity to take Craig down the Ocoee River in his tandem boat.
"It's really fun sharing the love of the river with people," Moore said.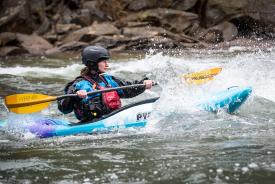 Margaret Kieran has been an Ocoee playboating partner of mine for the last couple of seasons. She had discovered kayaking while living in Jacksonville, Florida and regularly made the 7-hour-each-way trek to Chattanooga on weekends to paddle its local runs. When that was proving too much, she knew what she had to.
"Chattanooga presented itself as the ideal city to live in while having so many great rivers and creeks in driving distance," Kieran said. Between Kieran and Moore, I knew Craig would be safe and have a good time on the Ocoee. So, I decided not to tell the C&K staff that she just happened to be terrified of going underwater. I figured it would work out.
"It was all smiles the whole time," Moore said. "It was a blast, so cool to show such an in-your-face experience on her first time out, and to have her handle it so well." For him, their run through Broken Nose (Class III), a technical triple-drop rapid that ends in a sticky hole, was the best.
"Our approach was two simple commands, paddle and relax," Moore explained, they took no sneaks and just went full out. They even took some boofs and nailed Double Suck (Class III), one of the best beatdown spots on the whole river. Judging by the laughs and smiles on her face through wave trains at Double Trouble (Class III) and high-fives at the Goforth Takeout, I could thankfully say it did work out.
After the tandem fun on the middle Ocoee, Craig tried her hand at solo kayaking on the lower Ocoee. This flatwater section makes for a great down-and-back paddle for beginners or even those just looking to have a relaxing day on the water amidst beautiful scenery. I loaned her some gear that local whitewater paddling school Ace Kayaking let me borrow, and Kieran guided her through the basics strokes and concepts.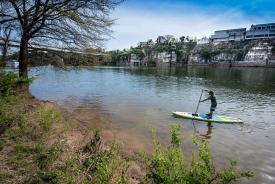 "I definitely prefer the tandem," Craig laughed.
We finished out the day with good home-style cooking at the Ocoee Dam Deli & Diner, a local classic and family-operated diner since 2005. Pulled pork sandwiches, burgers, and fried catfish paired gluttonously well with sides of fried okra, mac 'n' cheese, and sweet potato casserole. But nothing compared to deep the fried pickle spears Kieran insisted that we try. It may have been the best beta of the day.
For a more relaxed day on the water, the Class II-III Hiawassee River, just 50 minutes away from Chattanooga, offers beautiful scenery for paddling, rafting, and kayak fishing.
Chattanooga also boasts more than whitewater and downriver paddling excursions. My old colleague and current photo editor of Canoe & Kayak, Aaron Schmidt, caught me up on all of the lifestyling he enjoyed the day before meeting my friends and me at the Ocoee. It sounds like the perfect day for anyone looking to make a quick getaway to Chattanooga.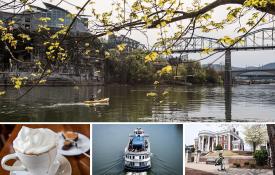 Wake up with a mocha and pastry at the historic Rembrandt Cafe then spend the day SUPing or kayaking down the Tennessee River Gorge, launching from Coolidge Park. The limestone bluffs below Hunter Museum are neat, but one of the coolest places to reach by boat is Maclellan Island. The 18-acre wildlife sanctuary is home to many local birds including blue herons and osprey as well as an important feeding ground for migrating warblers.
Pair that with a second day on the Ocoee, and you have one mighty fine weekend in Chattanooga.
Published online on April 19, 2018: Written by Charli Kerns