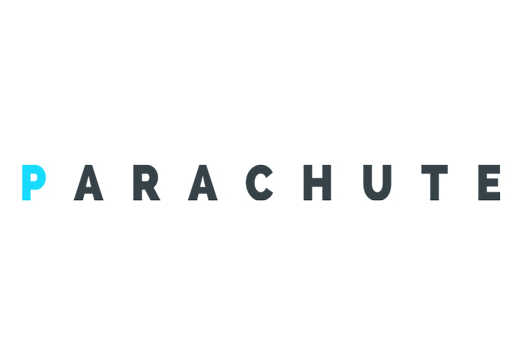 Written by: Victoria Hart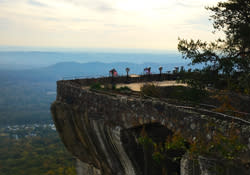 It's painted on the roofs of more than 800 barns from Michigan to Texas: "See Rock City." In 1935, as a creative form of advertising, developer Garnet Carter sent painter Clark Byers on the road, offering to paint farmer's barns free, if he could paint three simple words on either side of the roof. Today birdhouses are sold at Rock City, commemorating this successful advertising campaign.
Just a few miles up the mountain from Chattanooga, Tennessee, a day on Lookout Mountain is a unique and memorable excursion worth taking.
Frieda Carter, Garnet's wife, began planting gardens on the Lookout Mountain, Georgia property in the 1920's. Over 400 species of native plants can be seen communing with the pre-historic rock formations. In 1930, Frieda Carter marked the trail that is still used today. Goblin Pass is one of many twists and turns along trail.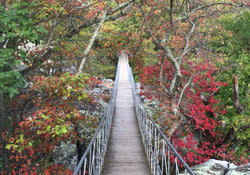 To get to Lover's Leap, you must take a bridge. Which one will you take? The sturdy, Stone Bridge or the bouncy Swing-A-Long Bridge? I chose the Swing-A-Long Bridge, a 180' long suspension bridge with spectacular views of the Chattanooga Valley below.
There is nothing more breathtaking and freeing than the view from the top of a mountain. Or, in this case, almost the top of the mountain. To get to Rock City, you don't have to climb, at least not on foot. A well-paved, well-signed two-lane road meanders up the mountain. A free parking lot is the bonus, once you arrive.
From the lookout, a marker points visitors in the direction of seven states, which can all be viewed on a clear day. They are Georgia, South Carolina, Alabama, Kentucky, Tennessee, Virginia and North Carolina. In 1991, the Seven States Flag Court was created to honor all seven states.
If the natural beauty, romance and breathtaking views aren't knocking the socks off your six year old, then head for Fairytale Village, a man-made cave where gnomes and Grimm's Fairytale creatures reside. If you haven't taught your children traditional, old-fashioned fairy tales, this is the place to do it! The trip through the village will definitely spark some childhood memories with grandparents, and perhaps prompt some to go home and read fairytales with the youngsters.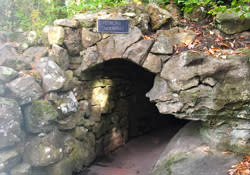 Gnomes take care of the grounds, and some of them are over eighty years old. That's a long time to be a gardener. Just when you least expect one, there he will be. It doesn't appear there is an early retirement plan for the Gnomes. The kind and gentle signage reminds patrons not to do all the stupid things people do in public places. If you don't get it, it's trying to tell you not to litter, spit, scream, or anything else offensive that makes people wish you had never shown up.
If you were a gnome who lived on a mountain next to this waterwheel, wouldn't you want to live forever?
Rock City offers a daily admission, an annual pass, and coordinated passes with the other Lookout Mountain attractions, Ruby Falls and the Incline Railway.

Published on: January 30, 2017