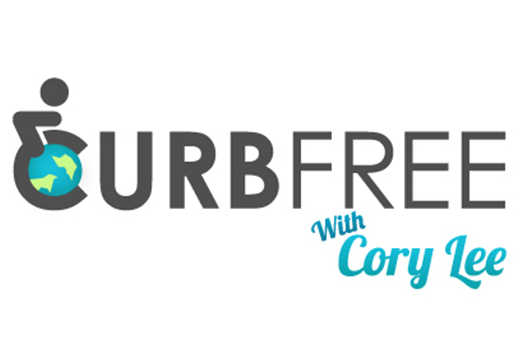 If you're looking to head south, Chattanooga is a wonderful, wheelchair accessible destination in beautiful Tennessee. Nestled at the foothills of the Appalachian Mountains, the views offered by this forested paradise are absolutely stunning. As Tennessee's fourth largest city, it's the ideal size to explore – not too large or too small, exciting yet manageable. I actually live very close to Chattanooga and usually visit it a couple times per week. I am constantly impressed with the amount of things to do that I've come up with this list of the 10 best wheelchair accessible activities in this cool city, so be sure to head to Chattanooga and check them out!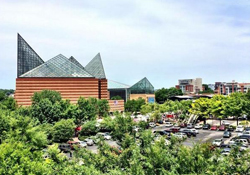 1. Visit the Tennessee Aquarium
Bet you didn't think you'd be having an oceanic adventure in Tennessee, but that's exactly what the Tennessee Aquarium offers. Featuring an IMAX 3D Theater nearby as well as an optional cruise along the Tennessee River, you can discover a number of worlds in this one awesome attraction. The River Gorge Explorer Riverboat is wheelchair accessible for up to two chairs, and tickets for this one attraction are $32 for adults. You can also get tickets for the River Gorge Explorer and the Aquarium combined for $56.95, an Aquarium/IMAX combo for $37.95, just Aquarium tickets for $29.95, or tickets for all three attractions for $64.95. It's neat to see the 45-minute IMAX movies, and the Aquarium itself offers incredible views of animals.
2. Stroll Around Downtown
Chattanooga's downtown area makes for a scenic and sublime stroll on a pleasant day. This district is both historic and revived, making for an incredibly unique atmosphere with gorgeous shops and restaurants, especially those along the riverfront. These are all excellent local businesses to explore, and one of my favorites is the iconic Moon Pie General Store. Sporting events and museums are also headquartered in this district, so there's plenty to do once you're done with your stroll and plenty of places to stop along the way. Downtown is also where most of the city's exquisite pathways and river walks begin, so you can start here and follow the trails through other Chattanooga neighborhoods.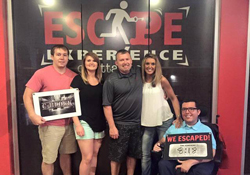 3. Try an Escape Game 
Have you ever heard of "escape games"? They're a new craze, and if you haven't jumped on the bandwagon yet, you're missing out on an incredibly fun and challenging experience. In these games, you and your companions will be trapped in a room, and to "win" the game, you have to use what's in the room to solve a series of puzzles in order to escape within a certain amount of time. It's a thrilling brain exercise and definitely a great bonding experience. I went to Escape Experience and had an exhilarating time in their wheelchair friendly C-Block game. When I was solving mysteries and searching for clues so that we could break out of there, I felt like I was the star of my own movie! It's $28 per person and well worth the adventure. 
4. Visit the Bluff View Art District
This neighborhood is definitely a highlight of Chattanooga and is a continuation of its scenic downtown area. This hip district is crawling with galleries, museums, and excellent restaurants – plus it has that neat historic vibe that permeates Chattanooga. Set atop stone cliffs, the views of the rest of Chattanooga are almost as amazing as the art. Art lovers can visit the Hunter Museum of Art and a number of galleries. Follow your stomach to one of the many great dining options, but I suggest grabbing a coffee at Rembrandt's and indulging in some excellent Italian cuisine at Tony's Pasta Shop.
5. See 7 States from Rock City
Rock City is one of the most exceptional points in the USA, because from this perch atop the aptly-named Lookout Mountain, you can see seven different states. Its name comes from the ancient rock formations you can find here, and Rock City also features acres of lovely native plant gardens, fantastic Fairyland Caverns, and an excellent Enchanted Trail through the woods. Rock City is famously fabulous no matter which season you choose to visit in, and they sell "world famous birdhouses" if you're looking for a neat souvenir. It's a wedding-worthy view, so don't be surprised if you see a bride walking along the wheelchair accessible trail to the overlook at Lover's Leap.
6. Go Across the Walnut Street Bridge
One of the best places in all of Chattanooga to walk and roll is the Walnut Street Bridge. It actually has the honor of being one of the world's largest pedestrian bridge, so it's worth going across just to say that you've done it! But its claim to fame isn't the only great thing about the bridge. From here, you'll get a bird's eye view of the Tennessee River in all its glory as you cross. To get to this scenic walkway, you'll need to start in downtown and you'll end up at Frazier Avenue. But don't stop there! There's the beautiful Coolidge Park that comes next, and that also offers excellent vistas of the river and gorgeous greenery.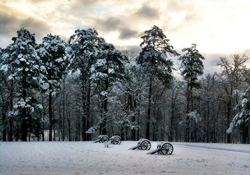 7. Visit the Chickamauga and Chattanooga National Military Park
History buffs and anyone looking for an excellent outdoor adventure must swing by the Chickamauga and Chattanooga National Military Park. The sprawling park includes over 9,000 acres and six separate locations, and it's nothing short of astounding. The Visitors Center is fully accessible, so that makes a great place to start your journey. The largest part of the park is the Chickamauga Battlefield, where a self-guided cell phone tour is available and can be done by car, since the pathways aren't 100% accessible. The park is completely free, but to get to Point Park at Lookout Mountain Battlefield – an accessible area where the famed "Battle Above the Clouds" took place during the Civil War – it's $5.00 for visitors ages 16 and up.
8. Shop at Tennessee's Largest Mall
If you love shopping, Hamilton Place Mall is a must-see in Chattanooga. Tennessee's largest mall, it's wheelchair accessible and has anything you could possibly want. An elegantly constructed shopping center, it makes for a nice visit even if you're not a shopping enthusiast. It's open from 10am to 9pm Monday through Saturday, and noon to 6pm on Sunday. One of the perks is that those who need one can get a complimentary wheelchair while they're at the mall. You can also check their website to see if the mall is having any fun events when you'll be in town, because they often do!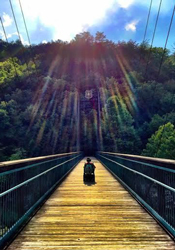 9. Have Fun at the Ocoee River
If you're hankering for a day at the water, check out the Ocoee River. The Ocoee River is a popular place for whitewater rafting, so don't be surprised if you see some rafters floating downstream! They're in for a rough ride, since this river is famous for its rapids and even served as a site for the 1996 Summer Olympics! While you're here, I really recommend grabbing a dam good bite to eat at Ocoee Dam Deli. If you're lucky you might catch some live bluegrass music here, and if you're at the Deli on your birthday, you can get a free meal.
10. Have a Picnic at the Tennessee Riverpark
You haven't experienced the best urban nature that Chattanooga has to offer if you haven't visited the Tennessee Riverpark. This paved, pleasantly accessible pathway offers excellent places to picnic along the Tennessee River. I know this because I picnic here frequently and always have a great time. If you really wanted, you could go the length of the trail – a full eight miles from downtown Chattanooga to the Chickamauga Dam. Sometimes my mom will ride her bike here along the paved path, and we'll go the full length… Or until my wheelchair runs out of power (it has happened before). One of the best parts is that it's open 24/7, so you can head out for a sunrise or sunset stroll, or anything in between!
Chattanooga really combines the best of everything that Tennessee has to offer – impressive mountaintop vistas, charming downtown districts, supreme wild and urban landscapes, excellent amenities and, of course, famous southern hospitality.
From the state's largest shopping mall to a thrilling escape game, there are plenty of adventures for people with a wide variety of tastes in this perfectly-sized city. Chattanooga is charming any time of the year, and I highly recommend a visit to all of these accessible attractions.
Written by: Cory Lee
Published on: May 10, 2016