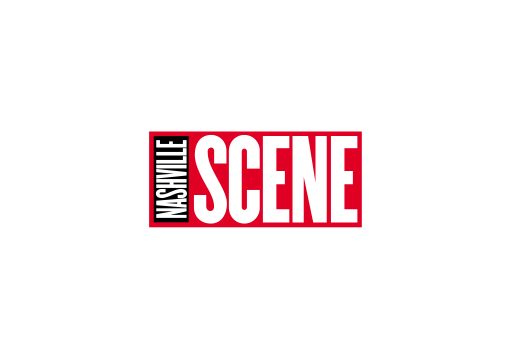 Written by: D. Patrick Rodgers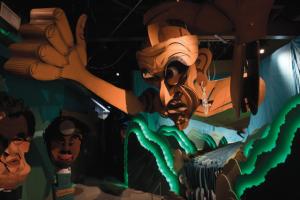 Tucked amid a row of modest storefronts, the exterior of the Tenn Arts center in Chattanooga's Southside Arts District doesn't betray the sheer magic that lives inside. Upon entering Wayne-O-Rama, you're met by the Empress of Blues — a roughly 12-foot-tall boa- and necklace-adorned cloth puppet of Bessie Smith, the early-20th-century Chattanooga blues legend. The poseable, mobile Bessie is all soft cheeks and Jazz Era flash, a burst of color to greet guests.
This outsized, candy-colored cartoon-gone-three-dimensional is the work of Chattanooga native Wayne White, the renowned multimedia artist who is known for, among many other things, his set and puppet designs for Pee-Wee's Playhouse, as well as his "word paintings," in which he positions massive block letters amid traditionally styled landscapes. His work on Pee-Wee won him three Emmys. His most famous word painting served as the cover art for Nashville indie legends Lambchop's most acclaimed record, Nixon, and he's also the subject of the widely well-received 2012 documentary Beauty Is Embarrassing.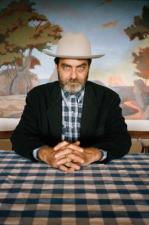 Wayne-O-Rama is the playground where White's famously vivid imagination runs amuck, a "Chattanooga history funhouse" that pays tribute to his hometown and its historical and cultural figures with equal parts deference and idiosyncratic splendor.
"I always say that the Chattanooga tourist attractions like Lookout Mountain and Ruby Falls and Rock City and things like that were my first idea of art," says White, who lives in Los Angeles. "They took landscape and history and sort of transformed it and dramatized it and made it an aesthetic. I've always said that the tourist attractions are always on my mind all through my art career, just that early childhood memory of them, so I wanted to create my own tourist attraction in Chattanooga, naturally."
The name Wayne-O-Rama — a "kinda goofy" joke that ultimately stuck — is a reference to Confederama, a Civil War attraction on Lookout Mountain that was built in 1957 and has since been renamed the Battles for Chattanooga Museum. Once guests round the corner past Bessie Smith and into the exhibit's central room, they find a large interactive sculpture of Lookout Mountain. When pressed to choose a favorite Wayne-O-Rama piece, White reluctantly admits this is the one. "When I read The Hobbit in the seventh grade, I imagined it all taking place on Lookout Mountain."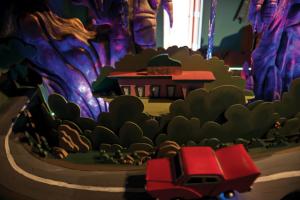 The looming Styrofoam-and-wood mountain features depictions of Rock City and Ruby Falls, and is populated by tiny spelunkers and natives. The replica of Lookout Mountain's Incline Railway — the world's steepest passenger railway — is interactive: Turn a crank and the small trolley-style car climbs the mountain. White is quick to point out that collaborator Bryan Dyer made this bit possible. "He's the genius behind the mechanism there of the bicycle chain that drives it up the mountain."
While every bit of Wayne-O-Rama was born in White's mind and bears his unmistakably playful and intricate style, its execution wouldn't have been possible without help. At the core of the project is the Shaking Ray Levi Society, an avant-garde music group and nonprofit art foundation that "supports, produces and presents diverse genres of music, film and performance art" and is dedicated to "enhancing the cultural growth of Chattanooga." White first pitched the idea of Wayne-O-Rama to the society's co-founders, Bob Stagner and Dennis Palmer. Palmer died in 2013, but says White, "Bob carried the ball and kept the dream alive, went to a lot of arts organizations there in Chattanooga and got the funding, and then we finally got it going and we built it this fall."
"A big part of my concept with Wayne-O-Rama was creating a community of artists in Chattanooga and giving them a chance to come together," says White, calling the installation his "art clubhouse." "I'm still working on it, so it's never quite finished. There's always something new to do. … Most artists would agree things aren't really finished, you just kind of resolve it to a point and you say it's finished, but you know it's not."
There's nothing unfinished-looking about the massive depiction of Native American war chief Dragging Canoe that hangs overhead just past the Lookout Mountain piece, his arms stretching out on either side of his fierce wooden visage. The forced-perspective wooden sculpture shows Dragging Canoe — known for leading a band of Cherokee against American settlers in the late-18th century — soaring overhead, the rolling Tennessee landscape beneath him, his sparkling, chestnut-colored eyes peering down at visitors.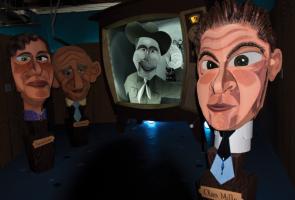 Throughout the exhibit are several large cardboard busts, all of them wearable, all of them modeled after historical figures with Chattanooga roots — Native American figures John Ross and Sequoyah, groundbreaking African-American physician Emma Wheeler, and New York Times and Chattanooga Times owner Adolph Ochs among them. In Wayne-O-Rama's back room, towering puppets of Union Gen. William Tecumseh Sherman and Confederate Maj. Gen. Patrick Cleburne square off overhead, while longtime Chattanooga-area kids' TV personality Bob Brandy grins and waves from inside an outsized midcentury television set. 
White tells the Scene that this cast of figures, all of them integral to Chattanooga's rich and diverse cultural heritage, was far more appealing to him than, say, "jocks and athletes," who he thinks get plenty of attention.
"Even though the word has become sort of a dirty word lately — 'populist' — I consider myself a bit of a populist when it comes to these projects," says White. "That's why I don't call it an 'installation,' which I think is a really dry, boring word. … Art is often, literally, on a pedestal or behind a rope. It has this aura — this untouchable, sacred quality that I find kind of boring. I like to get it down to a level where you can actually participate."
Wayne-O-Rama isn't White's first site-specific large-scale installation — er, exhibition. In recent years, he's built a massive George Jones head in Houston, what he calls a "cubist cowboy rodeo" in Oklahoma City, and a Civil War-inspired display in York, Pa. White has an uncanny knack for absorbing the culture and the history around him, wherever he may be, wrapping it in his own peculiar, interactive packaging and sending it back out into the world.
He credits his desire to create accessible, interactive art in large part to a job he got when he was fresh out of Middle Tennessee State University and living in Nashville: He was an exhibit designer at the Cumberland Museum and Science Center (now known as Adventure Science Center). "That's where I really learned to bring out that populist quality of communicating and creating a fantasy world, something you can walk into." White also credits Nashville native and art-world legend Red Grooms, another of his early employers, as a massive influence. "In fact," he says, "I would say I'm in the tradition of Red Grooms."
But for all his work as a set designer and puppeteer in Hollywood, an illustrator in New York and a multimedia artist across the country, it's this hometown show that seems to ring the truest.
"It's such a thrill to return to your hometown as a conquering hero," says White. "I always kid, like this is like something I would've fantasized about when I was 12 years old. 'You just wait, one day I'm gonna come back and I'm gonna be a famous artist and I'm gonna do what I wanna do.' [Laughs] It's like a triumph fantasy or something, and it came true. To be able to be in my origins and make art about it is very satisfying."
Published on: April 6, 2017