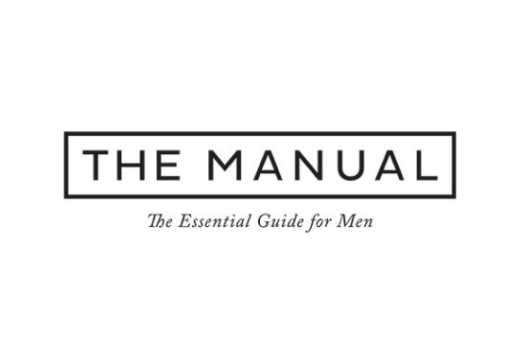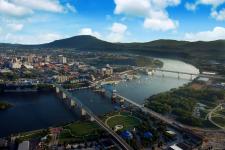 Among Tennessee cities, Chattanooga has always been overshadowed by its bigger brothers, Nashville and Memphis. It's smaller, rough around the edges, and, of course, lacks the same music industry cachét as its siblings. It also didn't help that the EPA once dubbed it "the dirtiest city in America" — a place where the air was so thick with pollutants that residents had to drive with their headlights on during the day just to see. It took decades for the city to shake that charming moniker.
Fast-forward to today and Chattanooga has quietly come into its own as a hip, progressive, ultra-green destination. For adventure-lovers in particular, it's an ideal home base with access to some of the country's best hiking, biking, paddling, and more. The town also boasts an easily walkable, bustling downtown core full of gastropubs, craft beer bars, year-round concerts and events, and direct access to the Tennessee River. Whether you're planning to relocate or just spend a weekend in Chattanooga, Tennessee, here are our favorite places to eat, play, and stay.
Must-do
Eastern Tennessee is home to some of the best outdoor adventure opportunities in the country. There are more than 120 miles of single-track mountain biking within 10 miles of downtown. The rugged sandstone cliffs that dot the surrounding landscape have provided climbers with an endless variety of routes for at least three decades. The nearby Ocoee River offers extreme whitewater rafting, while the Tennessee River (which winds through the city) hosts calmer water-based pursuits like kayaking and paddle boarding. The city even hosts annual Ironman and half-Ironman triathlon events. Suffice to say, there's no shortage of adventurous things to do in and around Chattanooga.
For Wet, Wild Pursuits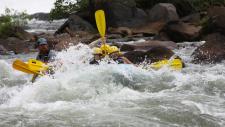 Less than an hour from downtown, the Ocoee River boasts some of the best whitewater rafting in the country. Thanks to the Tennessee Valley Authority's controlled water release schedule, there's a predictable flow of Class IV and V rapids each week. It's enough to provide first-time rafters with a sense of excitement while keeping things plenty interesting, even for seasoned whitewater experts. Outdoor Adventure Rafting is the area's go-to provider for gear, rentals, and tours. For more relaxed alternatives, paddlers — kayakers, canoers, or SUP-ers — can put in from the public boat launch downtown. The Tennessee River winds for miles in either direction, guaranteeing sufficient exploration opportunities for multi-day trips.
For Those Looking to Get High
Chattanooga has long been a favorite spot for rock climbers and lovers of bouldering. The sandstone hills, mountains, and valleys that surround the city provide endless opportunities. Climbers can frequently be found scaling the rock faces that line the downtown portion of the Tennessee River. High Point Climbing and Fitness is also home to 30,000 square feet of climbing space, making it one of the largest urban rock walls in the country. The towering, four-story structure gives visitors the opportunity to climb indoors or scale the exterior wall, which offers excellent downtown views.
For Those Looking to Get Higher
Tennessee didn't invent hang-gliding, but it did popularize the sport in the modern form that we know today. Less than 45 minutes from downtown, Lookout Mountain Flight Park is the country's premier hang-gliding school. First-timers can hop on a 20-minute, introductory tandem flight with a certified instructor. Even those without experience will have the opportunity to pilot their craft for a few climbs and dives. For those looking to jump head-first into the sport, the park also offers full Federal Aviation Administration certification.
For Animal and Science Lovers
If science, wildlife, or a combination of the two is more your speed, the Tennessee Aquarium is among the best in the country. Its two large wings — River Journey and Ocean Journey — are home to a staggering 12,000 animals. Visitors start in the five-story River Journey building and trace a single drop of water from the mountains through a series of towering fresh water tanks brimming with river monsters to the sea. The scope of exhibits is truly awe-inspiring, and a thorough visit can easily take an entire day.
For Roadside Attraction Lovers
The city is home to one of the strangest museums in the country. At first blush, the International Towing Museum appears about as hokey and bizarre as the world's largest ball of twine or the country's biggest stapler. Much of the museum takes a light-hearted, if slightly obsessive, approach to educating visitors about the niche industry. There are world record-setting tow trucks, antique military tow vehicles, and other one-of-a-kind delights, plus toys, plaques, and historical exhibits. There's even a Wall of the Fallen, which honors the many drivers who've died on the job (evidently, it's among the most dangerous occupations in the country).
What to Skip
Ruby Falls is one of, if not the most, hyped tourist attraction in Chattanooga. On paper, it sounds amazing — a stunning, 150-foot waterfall hidden 1,120 feet underground at the end of a web of tunnels and caverns. Don't fall for the trap. To be sure, it's a sight to behold. But there's a reason many local 'Noogans never bother to see it for themselves. It's crowded and expensive, and visitors are allowed only a few brief minutes at the falls before being ushered back the way they came on a too-long tour.
Where to Eat and Drink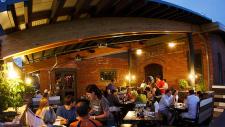 The Chattanoogan food and beverage scene has exploded in recent years. While it may lack the same breadth of much larger cities (the downtown core stretches for only about 16 blocks), the restaurants and bars in that tiny space are crushing it. Urban Stack Burger Lounge offers the city's best "killer burgers and manly drinks" in the vintage-cool, 150-year-old Southern Railway Baggage Building. The outside patio is a chill spot to sip an Old Fashioned and enjoy a Big Mike burger with two all-beef patties and three buns.
Just over the bridge near Renaissance Park, Taco Mamacita does 'Nooga's best Tex-Mex with a long list of a la carte tacos (go for The Memphis and Sloppy Jose), house made guacamole, and enchiladas. If you're looking for something to share, opt for the Peruvian Feast chicken dinner. Save room for the gelato next door at Milk & Honey — a staple of Chattanooga's dessert scene.
To round out a late night of boozing in the city, make your last stop the Pickle Barrel. Situated in an iconic flatiron building, it's one of the city's diviest dive bars, wildly popular with college kids and anyone with more beer money than sense. Grab a dirt-cheap draft and a basket of the famous fried pickles and head to the tiny rooftop deck for great people-watching.
Where to Stay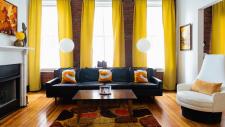 Downtown Chattanooga's leisure travel infrastructure is, in many ways, still in its infancy. The good news is that visitors won't need to fight the thick crowds of tourists found in other, more popular vacation destinations. The downside is that the number of boutique accommodations is limited. Airbnb is a solid, inexpensive bet, and there are hundreds of convenient options in and around the city center.
If you're in the market for "proper" lodging, The Dwell Hotel is worth a look. It's technically a bed-and-breakfast with an unabashed level of vintage, kitsch accents like mid-century Naugahyde seating, a Tiki bar, and a coin-operated Japanese massage chair. But thoughtful, modern touches and a lack of typical in-your-business inn owners set it apart from the soul-sucking B&B experience many younger travelers dread. There's even an onsite cocktail lounge, Matilda Midnight, and the charming Terra Máe Restaurant to boot.
For something altogether different, Treetop Hideaways offers legit tree houses just eight minutes from downtown Chattanooga. The rustic-meets-modern structures are equal parts old school treehouse and contemporary cabin. Each room boasts all the creature comforts of a traditional boutique hotel room, including a super comfortable Tuft & Needle mattress, free gigabit Internet connectivity, climate control, a mini-fridge, and a private bathroom with a hot shower, sink, and toilet.
Pack Your Bags (When to Go)
Chattanooga experiences four distinct seasons, but not in the same extreme way that, say, New England does. Fall is, no doubt, the best time to go. The sticky heat of the summer cools off and daily highs in the 80s feel more manageable. Plus, the leaves begin to turn and the throngs of fellow visitors thin out. Autumn is often the least crowded, prettiest, and cheapest time to visit.
Chattanooga's location on the banks of the Tennessee River is ideal for year-round events, including concerts, races, and art shows. Here are the best happenings:
April: The 4 Bridges Arts Festival is the city's largest fine art-centric event with more than 50,000 square feet of pavilion space. For almost twenty years, the show has brought world-class artwork in an array of mediums to Chattanooga. A total of $15,000 in award money is given out, and attendees are welcome to purchase their favorite works. There is, of course, plenty of live music, food, and adult beverages.
May: The city's craft beer history has exploded in recent years. The annual, one-day Chattabrewga is dedicated to special releases and rare brews from across the country. Tickets include access to unlimited samplings, food, and live music.
June: Spread across a good chunk of the Tennessee River, Riverbend Festival is the closest thing Chattanooga has to a local Woodstock. The lineup changes each year, but 2017 featured almost 100 artists across five stages with eight days of performances. For more than three decades, it has drawn some of the biggest musicians, such as Boz Scaggs, Ludacris, George Thorogood, and Toby Keith. There are plenty of vendors, food tastings, and beer throughout the event, which culminates in a fireworks finale on the last day. The roughly $40 ticket is a bargain since it includes admission to every performance for the entire week-long event.
October: No event better celebrates Chattanooga's dedication to outdoor living than RiverRocks. This multi-week outing is a destination in its own right for amateur and pro athletes from around the world. Competitions include urban 10Ks, open-water swimming, multiple marathons, bouldering contests, and more. Free concerts are hosted throughout the event as well.
Published online on Sept. 6, 2017: Written by Mike Richard