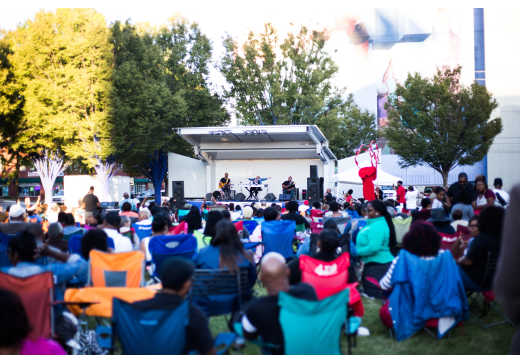 The Levitt AMP Chattanooga Music Series returns for a second year to invigorate the lawn of the Bessie Smith Cultural Center in the historic Martin Luther King district, once again shining a light on the area's renowned musical heritage and building upon the momentum of the past year to solidify its position as a thriving cultural destination.
Presented by Jazzanooga, a nonprofit organization dedicated to using jazz to transcend cultural barriers and addressing the lack of arts and cultural programming in the Chattanooga area, in partnership with the Urban League of Greater Chattanooga, the Bessie Smith Cultural Center, the Chattanooga Convention and Visitors Bureau, and the City of Chattanooga.
The presenting community sponsor is the Tennessee Valley Federal Credit Union.
The performances are held rain or shine. During the summer and fall months, it is not unusual for large storms to come through in the morning and clear up for the afternoon. Guests are encouraged to please monitor the weather and dress accordingly. 
For information regarding the cancellation or postponement of scheduled concerts due to inclement weather, please visit the Jazzanooga Facebook page or call 423-402-0452.
The Pedrito Martinez Group – Aug. 23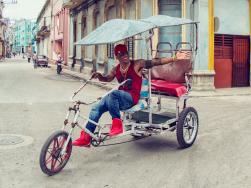 Described by The New York Times as "a source of rhythmic delight and inspiration," GRAMMY-winning percussionist Pedrito Martinez's dynamic mix of traditional Cuban rumba, Afro-Latin jazz and Spanish flamenco music will leave you spellbound. The Havana, Cuba-born musician began his performance career in his native city as a vocalist and percussionist at the age of 11, taking the stage alongside such Cuban legends as Tata Guines and Munequitos de Matanzas. In 1998, Martinez traveled to Canada as a part of Afro-Cuban jazz saxophonist's Jane Bunnett's band, Spirits of Havana. He made the decision to stay in North America to pursue his career, an auspicious choice that was rewarded two years later when he won the inaugural Afro-Latin hand drumming showcase at the renowned annual Thelonious Monk Institute of Jazz Competition. Since then, this 'musician's musician' has amassed a loyal fan base with his irresistible grooves and unparalleled musical virtuosity.
The Baylor Project – Aug. 30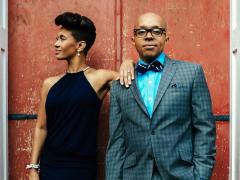 Two-time GRAMMY-nominated husband and wife duo The Baylor Project is a musical tour de force that's taken the American jazz scene by storm. Both the children of pastors, Marcus and Jean Baylor employ gospel-inspired arrangements that feature Jean's powerful, soulful jazz vocals and Marcus's R&B and funk drenched rhythms laced with hints of gritty blues. The pair were separately already involved in music before they began collaborating, with Marcus as the former drummer of GRAMMY-winning jazz fusion quartet The Yellowjackets and Jean as a former half of R&B duo Zhané—part of Queen Latifah's legendary Flavor Unit Collective. Known for their whimsical improvisation, keen technical skill and magnetic charisma, The Baylor Project's innovative and eclectic approach to musical storytelling is sure to leave you wanting more.
Big Freedia – Sept. 6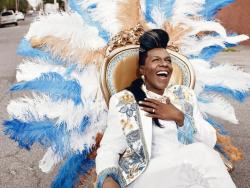 Celebrated rapper and ambassador of the high-energy, New Orleans-based bounce movement, Big Freedia—the 'Queen of Bounce'—is a dual force of jubilance and resilience, bringing hip-hop with a vibrant twist, teeming with danceable rapid-fire beats, bold call-and-responses and a healthy dose of empowerment for concertgoers of all ages, backgrounds and genders. After getting her start singing in the choir of her childhood Baptist church, Big Freedia began her onstage performance career around 1999 as a backup dancer and singer for fellow LGBTQ ambassador of bounce music, Katey Red. Big Freedia's dynamic performances immediately attracted an avid fan base, inspiring her to pursue a solo career. Her vibrant danceable music seamlessly glides between poignant, hard truths and jubilant call-and-responses that inspire concertgoers of all walks of life to confidently embrace their inner dancer, 'releasing their wiggle.' As a musician, published author and host of Fuse's hit docu-series Big Freedia Bounces Back, she empowers her fans to believe in themselves, follow their dreams and stand firm in who they are. Fully aware of the power of music to build acceptance and awareness of social issues, following the devastation of hurricane Katrina in 2005, she was on the forefront of the town's cultural recovery. As described by New Orleans-based music Alison Fenterstock in The New York Times, "Freedia was one of the first artists to come back after the storm and start working, and she worked really, really hard. If you lived here, it became impossible not to know who [she] was." That work ethic has paid off and Big Freedia's star has only continued to rise, earning her fans and critical acclaim across the globe with her signature brand of bounce music that's guaranteed to get your body grooving.
Kevin Whalum – Sept. 13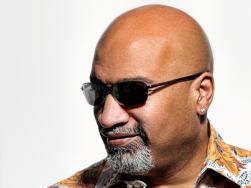 Renowned vocalist and younger brother of GRAMMY-winning jazz saxman and Levitt veteran Kirk Whalum (Levitt Shell Memphis 2008, 2013), Kevin Whalum's joyful jazz and R&B tunes are sure delight audiences of all ages and backgrounds. Whalum grew up in Memphis, Tenn., the son of Rev. Kenneth T. Whalum, the pastor of Olivet Baptist Church. The resounding melodies of the church formed the foundation for young Whalum's love of music. After graduating from Morehouse College in Atlanta with a degree in English, Whalum made the move to Chicago to pursue a career as a musician. Working as a pharmaceutical sales representative by day, he formed a jazz-funk group called Kevin Whalum & Fast forward and quickly became a favorite fixture in the windy city's live music scene. After six years of rising through Chicago's musical ranks, Whalum married his wife Camille in 1996 and moved to Nashville, Tenn., and appeared as a guest vocalist on his brother Kirk's groundbreaking 1997 album The Gospel According to Jazz: Chapter 1. Only a few years later, Whalum made the plunge and became a full-time musician, releasing his soul, gospel, and jazz infused debut Timetable in 2002 to critical acclaim. 
Jason Eskridge – Sept. 20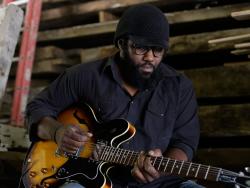 Tennessee-based troubadour Jason Eskridge's smoky vocals and magnetic stage presence will sooth your soul and lift your spirits. With groovy rhythms that glide between funk, R&B and gospel, his soulful originals and inspired covers of artists including Sam Cooke, Prince and Sly and the Family Stone are sure to get you dancing. Born and raised in rural Rockwood, Tenn., Eskridge attended college at Tennessee Tech University, where he played football and received a Bachelor of Science degree in Mechanical Engineering. Although he accepted a post-graduate engineering position at NASA in Huntsville, Ala., he couldn't shake his passion for music. So, he waited until his job's 401k was vested, packed up, left Huntsville, and moved to Nashville, Tenn., to pursue a full-time career in music. Eskridge quickly secured a wide array of background vocalist work and a reoccurring role as the host of "Sunday Night Soul" at local favorite venue The 5 Spot—now in its fourth year and firmly solidified as Music City's "place of choice for the area's most talented soul singers and instrumentalists" where "folks are pulled out of their seats and onto the floor, heeding the call of the concentrated, constantly changing grooves and beats" as described by local outlet The East Nashvillian.
Chantae Cann – Sept. 27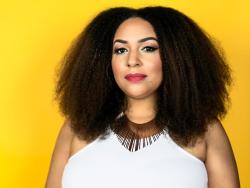 With a voice as rich and smooth as honey, scintillating songstress Chantae Cann treats audiences to soulful contemporary jazz grooves. Drawing influence from Chaka Khan, Bobby McFerrin and Haitus Kyote, her music blends the exploratory sound of jazz with the 'feel-good vibes' of soul music for a one-of-a-kind, authentic sound with a universal appeal that has attracted a global fan base. Cann says it is her "heart's desire to simply inspire, uplift and encourage the lives of others through music."
Deaconbluz and the Holy Smoke Band – Oct. 4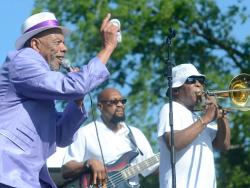 Self-described as "An organic public intellectual bluesologist," Chattanooga, Tenn.,-native Deaconbluz and his Holysmoke Band's lively take on traditional blues dance music will have you dancing the night away with loved ones, friends and neighbors. Together they've delighted audiences with their eclectic fusion of gritty blues, upbeat zydeco to old school R&B, since 1997. Growing up, Clark "Deaconbluz" White was encouraged by his family to share his love of music, making his first televised musical performance at the tender age of five when he sang "The Yellow Rose of Texas" clad in a cowboy outfit at Chattanooga's WDEF studios. Throughout this childhood, his highly-educated parents stressed the importance of higher learning which inspired him to attend Morehouse College in Atlanta and later to earn his Ph.D. from Michigan State University, as well as pursuing post-doctoral work at Harvard University. All the while, Dr. White says he "always knew that from an early age that music, in some form or fashion, would play a vital role in [his] life." Over time, he found blues to be a vehicle to share his love of music while exploring his African American heritage. "This is why I do the blues, because it is the soundtrack of the American experience…" he explained in an interview with The Pulse, "To teach you about the blues, I have to teach you about the history of black working class people, the life of the black slave, the black royal peasant, the black early industrial proletariat worker, and the present unemployed, marginalized group of black youth in this country. The blues is nothing but the facts of life." Together with the Holysmoke Band, Dr. White "Deaconbluz" White takes listeners on a vivid journey across American history featuring raw guitar riffs, powerful vocals and vibrant rhythms that are guaranteed to get you dancing.
Ingrid Woode and the Woode Tribe Orchestra – Oct. 11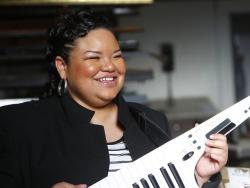 Soulstress Ingrid Woode delivers powerful anthems of resilience, accentuated by the impeccable musical arrangements and lush soundscapes of the 11-piece Woode Tribe Orchestra. Born in Cincinnati, Ohio, Woode is a classically trained violinist, multi-instrumentalist and vocalist who draws upon her diverse musical background to inform her smooth and funky soul jams with a dreamy orchestral flourish. A graduate of Tuskegee University in Alabama with a B.S. in Animal and Poultry Science and a minor in chemistry, Woode began working as a chemist straight out of college, investing here earnings in recording equipment. The musical chemist worked in a lab by day and honed her music production, composition and performance chops night. While committed to both worlds over the next several years, she was able to develop an impressive catalogue of original soulful tunes. In 2009, her song "Fair Weather Friend" won the People's Choice Award for songwriting and earned her the opportunity to meet Dana "Queen Latifah" Owens, who also included Woode's piece as a bonus track on her album Persona (2009). Since then, Woode has amassed a loyal fan base and critical acclaim, but what she "loves the most is that she gets to do what she loves with people who are like family."
John Boy and Surround Sound – Oct. 18

Legendary songwriter, producer JohnBoy, the mind behind V.I.C's 2008 hit single "Wobble," is joined by the 15-piece Surround Sound ensemble to serve up infectious jams that are guaranteed to get you on the dance floor. With a sound that has been described as Cab Calloway, Lil Jon, and Earth, Wind, and Fire combined, East Atlanta-based Jonathan "JohnBoy" Wright and Surround Sound features soulful vocalists, passionate lyricists, funky rhythms, searing guitar and an explosive 5-piece brass section that will audiences from all walks of life grooving the night away.

Seaux Chill – Oct. 25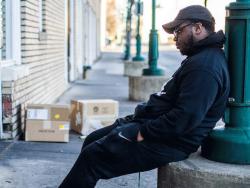 Fusing poetry with dynamic melodies and a joyous message, Seaux Chill bridges the gap between jazz, gospel and hip-hop for an unforgettable sound that will lift your spirits and leave you inspired. Nabil Ince, stage name Seaux Chill, was born the son of a pastor in Columbia, Md., growing up surrounded by the ethereal melodies of the church. At the age of six, Ince began playing the piano and discovered his love for creating music. As he grew older, that love expanded to encompass music composition and production, as well as writing poetic lyrics to accompany his pieces. In college, he continued to hone his craft at the scenic Covenant College on Lookout Mountain outside of Chattanooga, Tenn. Ince has remained in Chattanooga where he has become a fixture of the local music scene, sharing his uplifting and dynamic music—that he describes as "a spontaneous rhythmic combustion"—at a variety of local venues, the Levitt AMP Chattanooga Music Series (where he'll be performing for the second year in a row!)
Click here for more information.
The Levitt AMP Chattanooga Music Series is supported in part by the Mortimer & Mimi Levitt Foundation, a private foundation that empowers towns and cities across America to transform underused public spaces into thriving destinations through the power of free, live music. In 2018, more than 450 free Levitt concerts will take place in 22 towns and cities, all featuring a rich array of music genres and high caliber talent. Learn more at levitt.org. 
#MusicMoves