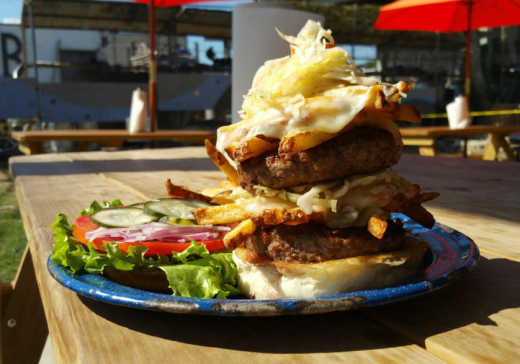 What's the best burger in Chattanooga? That's a source of endless debate, which proves that burger lovers have plenty of options that are sure satisfy in the Scenic City. Chances are that you'll love one—if not all—of these classics found around town. Here are six of the best burgers in Chattanooga, described by who might enjoy them the most.
33 Likes, 2 Comments - Hunter Greene (@thebigbear12) on Instagram: "Easily the best burger Chattanooga has to offer"
For The Twenty-Something, Craft-Beer-Drinking Trail-To-Taverner
The burgers at Tremont Tavern are epic in both size and ingredients. A favorite post-trail hangout of the outdoor community, you'll find Tremont packed with table after table of the young and hungry on any given night. The three-room tavern tucked away in North Chattanooga has been serving up cold beer and half-pound burgers since 2006, and local love for them has only grown. For your burger, start with a hunk of house blended Angus Beef and then make things interesting—the burgers range from the classic Tavern Burger (standard toppings and a Niedlov's bun) to the downright indulgent Gouda Burger (smoked gouda, BBQ sauce, and fried onion straws). Things get even better on Thursday nights when your mile high burger comes with a free draft beer.
28 Likes, 3 Comments - Slick's Burgers (@slickschattanooga) on Instagram: "Introducing Slick's Industry Night! Work in the biz? If so, the fries are on us with any burger or..."
For The College Student Whose Family is Visiting For the Weekend
Located on Main Street, Slick's Burgers will make you think you're on vacation in an eccentric beach town rather than Chattanooga. Decked out in eclectic knick knacks from license plates to an old-school diner car, Slick's has everything you could want in the way of atmosphere, right down to its airy industrial space and outside seating. And then there's the food. Choose your burger's size and base (beef, lamb, turkey, chicken or veggie patty) and build your own sandwich or "upgrade" to a classic style (Shrooms n' Swiss, Bacon n' Blue, etc.). Slick's has something for even the pickiest of eaters in your group and a kids' menu, too, and everyone will enjoy the hand cut fries. On certain nights you can tap your toes to a local band while you munch.
57 Likes, 1 Comments - Southern Belle Riverboat (@noogariverboat) on Instagram: "These Burgs 🍔 Are Totally Worth Dislodging Your Jaw For🐍#thatissomeintensechewing #noog #nooga..."
For A Group Night Out
The 3rd Deck Burger Bar's claim to fame is its locale aboard the Southern Belle Riverboat. The dining room offers regular tables as well as living room-style seating, or you can head outside to eat and drink with a great view of the Tennessee River. 3rd Deck doesn't get fancy with its burgers: Start with a half-pound black angus patty and choose your toppings by filling out a scorecard-type menu. Cocktails and beer, arcade games, TVs, and dart boards make this a great place for a group gathering.
1 Likes, 1 Comments - @lsbarron on Instagram: "Last night snack after the Hunter Underground"
For The Late-Night Cravings
For a fantastic burger and fun atmosphere without a hefty price tag, Local 191 is your go-to restaurant. A popular place for Chattanooga nightlife, Local 191 offers a double stack cheeseburger for under $7 and extensive daily Happy Hour deals. Roll-up windows, high ceilings and discounted cocktails make this the perfect spot for hanging out on a summer evening.
9 Likes, 1 Comments - Michael Morris (@fedexguy2986) on Instagram: "lupper"
For The Couple Can't Agree On Where to Eat
As its name suggests, Universal Joint appeals to the masses: Sports-lovers can catch just about any game on one of the giant flat screens, and everyone else can love the lively industrial atmosphere and huge menu. Located in an old service station, Universal Joint is cool and quirky without much effort. On warm days, the old garage doors are raised to make the restaurant open air, and outdoor seating nearly doubles its capacity. Topping options for the half-pound burger are standard but plentiful: choices range from bacon to jalapeños to sautéed mushrooms, and you can pile these on beef, turkey, chicken, or a veggie patty. The real kicker? Delicious, hot, crispy tater tots that come included with your burger.
68 Likes, 4 Comments - Neal Russler (@nealrussler) on Instagram: "This burger is gushing pure sexuality at me."
For The Foodie Blogger
The fact that Main Street Meats is a local butcher shop and charcuterie pretty much says it all. By working solely with nearby farms that are dedicated to quality animal care, Main Street Meats is on a mission to create an ideal experience for the animals, the farmers and the community. Though you'll find only one burger on the menu, don't doubt that it's spectacular in both taste and presentation. You'll be served house pickles, caramelized onions, bacon, and gruyere atop a local beef patty. Add a side of house cut fries and your meal will be complete.