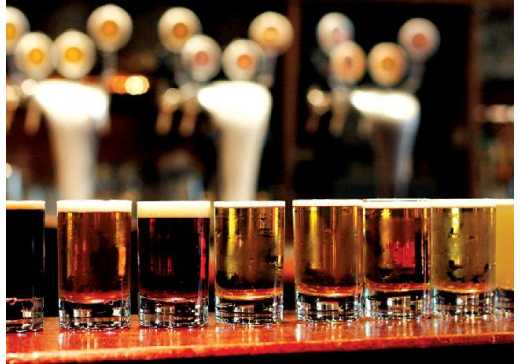 We've talked about craft beer before, but there are so many exciting things brewing in Chattanooga. See below for breakdown of festivals, brewpubs, pub crawls and some of our popular watering holes – all reasons Livablity.com named Chattanooga one of the top 10 beer cities.
BREWERIES
Big River Grille and Brewing Works
222 Broad Street, 423-267-2739
It all started here folks. While Big River Grille is now all grown up and part of a national restaurant chain 200 locations strong, it began as Chattanooga's first brewpub in the early '90s. Today tourists and locals alike pay homage to its legacy by sampling some of their award-winning beers, which have earned a combined 20 medals from the Great American Beer Festival and the World Beer Cup.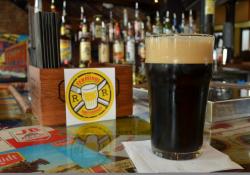 Terminal Brewhouse
6 East 14th Street, 423-752-8090
Housed in the historic Stong Building, Terminal Brewhouse is a multi-leveled restaurant that's helped take local beer to new heights. All of their signature brews, including Magnum P.A., Terminally Ale and Southsidenstein Stout, are made in basement level tanks, visible from the railings of each story. Their outdoor green roof, which features real grass and picnic tables, lends a bier garten flair.
Moccasin Bend Brewing Company
3210 Broad Street Suite B, 423-821-6392
If you're looking to step out of your beer comfort zone, Moccasin Bend Brewing Company is the place to go. They started in the basement of a century-old warehouse and are now the second oldest brewery in Chattanooga. They are known for their flagship beers like the Lookout Mountain Lager and Unbalanced IPA, but are known for keeping things weird by introducing a wide variety of sours, stouts, dunkles, and belgian beers as well.

PUB CRAWLS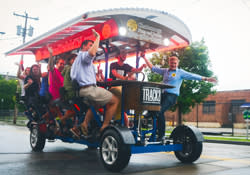 In Chattanooga, the best way to experience the beer scene is to pub crawl. A great way to find the best brews in town is on a TapTour, a self-guided tour of Chattanooga's finest breweries. Grab a Brew Guide, choose which breweries and tap houses you want to visit, collect stamps at each stop, then show your guide for prizes.
If skipping the planning is more your style, try a Pints and Pedals or Chattanooga Brew Choo pedal bike tours. The tours allow you to bring your own beverages and travel to cool spots in town. But the best part is getting there. Your vehicle is a specially-built aluminum frame bike, steered by the driver, powered by you and your friends. Adjustable seats with cushioned backs make for a comfy ride while customized sound systems pump your favorite tunes.
WATERING HOLES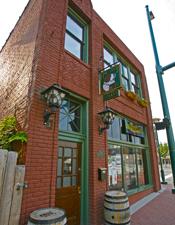 Brewhaus
224 Frazier Avenue, 423-531-8490?
Chattanooga's only German-American gastro pub, offering an impressive bier list and great views of the Tennessee River.

Hair of the Dog
334 Main Street, 423-265-4615
Dark wood, wrought iron railing and more than 50 beers give this downtown bar an authentic English pub feel, while the multi-level outdoor deck is more "bier garten." Insider tip: try the hand-cut French fries.

The Honest Pint
35 Patten Parkway, 423-468-4192
Authentic Irish kitchen, live music, laid back atmosphere and beer poured into a TRUE pint glass are the cornerstones of this bona fide bar.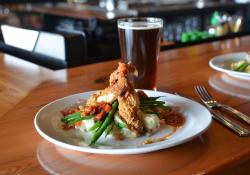 Tremont Tavern
1203 Hixson Pike, 423-266-1996
Tremont Tavern takes two things very seriously; their beer and burgers. They boast the best burgers in town and feature over 100 bottled beers with 21 on tap.

The Feed Co. Table & Tavern
201 W. Main Street, 423-708-8500
Located on the Southside, FEED is complete with a full bar featuring 32 rotating craft beer selections along with an arcade and the largest covered outdoor patio in Chattanooga.