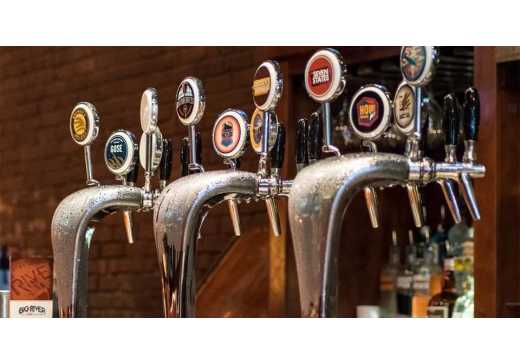 We've talked about craft beer before, but there are so many exciting things brewing in Chattanooga. See below for breakdown of festivals, brewpubs, pub crawls and some of our popular watering holes – all reasons Livablity.com named Chattanooga one of the top 10 beer cities.
BREWERIES
Big River Grille and Brewing Works
222 Broad Street, (423) 267-2739
It all started here folks. While Big River Grille is now all grown up and part of a national restaurant chain 200 locations strong, it began as Chattanooga's first brewpub in the early '90s. Today, tourists and locals alike pay homage to its legacy by sampling some of their award-winning beers, which have earned a combined 20 medals from the Great American Beer Festival and the World Beer Cup.
Chattanooga Brewing Co.
1804 Chestnut Street, (423) 702-9958
At the turn of the 20th century, the finest German-style beer in the southeast flowed from the taps of the Chattanooga Brewing Company. Once prohibition hit, that was put to a stop. Today, Chattanooga Brewing is back in business and crafting a line of classic and specialty beers for all to enjoy. Bring your dog and hang out in the Biergarten, stop by for a brew before a Chattanooga FC match, or participate in one of the weekly events like Brewga, Joggers + Lagers, or live trivia.
Terminal Brewhouse
6 East 14th Street, (423) 752-8090
Housed in the historic Stong Building, Terminal Brewhouse is a multi-leveled restaurant that's helped take local beer to new heights. All of their signature brews, including Magnum P.A., Terminally Ale and Southsidenstein Stout, are made in basement level tanks, visible from the railings of each story. Their outdoor green roof, which features real grass and picnic tables, lends a bier garten flair.
PUB CRAWLS
If you want to experience a variety of brews, try Pints and Pedals for a pedal-powered bike and brew tour. The tour allows you to bring your own beverages and travel to cool spots in town. But the best part is getting there. Your vehicle is a specially-built aluminum frame bike, steered by the driver, powered by you and your friends. Adjustable seats with cushioned backs make for a comfy ride while customized sound systems pump your favorite tunes.
WATERING HOLES
Brewhaus
224 Frazier Avenue, (423) 531-8490
Chattanooga's only German-American gastro pub, offering an impressive bier list and great views of the Tennessee River.
The Tap House
3800 St. Elmo Avenue, (423) 682-8234
Located in historic St. Elmo, The Tap House features 30 taps with a rotating line up of quality beers, local brews, ciders and gluten-free options. Enjoy live music, trivia, games, and more throughout the week and soak in the views of Lookout Mountain.
Jack Brown's Beer & Burger Joint
818 Georgia Avenue, (423) 682-8198
What's better than beer and burgers? Find a variety of craft brews and crazy burgers on your next visit to Jack Brown's. Insider tip: Drink 100 different beers and you'll be initiated into the Notch Club.
Hair of the Dog
334 Main Street, (423) 265-4615
Dark wood, wrought iron railing and more than 50 beers give this downtown bar an authentic English pub feel, while the multi-level outdoor deck is more "bier garten." Insider tip: try the hand-cut French fries.
The Honest Pint
35 Patten Parkway, (423) 468-4192
Authentic Irish kitchen, live music, laid back atmosphere and beer poured into a TRUE pint glass are the cornerstones of this bona fide bar.
Tremont Tavern
1203 Hixson Pike, (423) 266-1996
Tremont Tavern takes two things very seriously; their beer and burgers. They boast the best burgers in town and feature over 100 bottled beers with 21 on tap.
The Feed Co. Table & Tavern
201 W. Main Street, (423) 708-8500
Located on the Southside, FEED is complete with a full bar featuring 32 rotating craft beer selections along with an arcade and the largest covered outdoor patio in Chattanooga.
Taco Mac
423 Market Street, (423) 267-8226
With 60 craft, domestic and imported beers on draft and over 175 bottled beers to choose from, you're sure to find your new favorite beer at Taco Mac. If you're a true craft beer connoisseur, sign up for Brewniversity-a loyalty program dedicated to the exploration and enjoyment of delicious, unique and rare craft beers.