Ice on the Landing at the Choo Choo Gardens
11/18-1/16, 11am-11pm
Chattanooga's outdoor ice skating rink represents a unique, wintertime recreational experience during the holiday season. The rink will feature a schedule to accommodate general skating for the public, as well as special themes, appearances by Santa, live music and a rotating schedule to benefit local not-for-profit groups. Guests can also enjoy warm drink and food vendors. 
Tennessee Valley Railroad's North Pole Limited Adventures
Weekends in December
Enjoy a trip to the "North Pole" pulled by a locomotive with refreshments, storytelling, caroling, visits by Santa Claus and more! 
 
Chattanooga TubaChristmas
11/27
Join the UTC Department of Music for the Annual Merry TubaChristmas Chattanooga Concert at scenic Rock City on Lookout Mountain, Georgia. All participants will have free admission to the park for themselves and one additional person.
Southern Belle Riverboat's Christmas Carol Dinner Cruises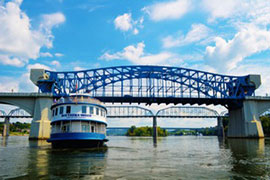 12/1-12/4; 12/8-12/11; 12/15-12/18; 7-9:30pm
This two-and-a-half hour cruise includes live entertainment, an appearance from Santa, pilot house tours and our one-time-through buffet-style dinner.
Southern Belle Riverboat's Tis the Season Lunch Cruise
Dec 3, 8, 9, 10, 17; 1:00pm
Get into ihe holiday spirit! Take a break from hustle and bustle and enjoy a relaxing two hour cruise with the Southern Belle's slow cooked Prime Rib and Chicken Wisconsin. There will be live entertainment playing your favorite Christmas tunes to get you in the holiday spirit!
Southern Belle Riverboat's Breatfast with Santa
Dec 5, Dec 19, 9:30am
Hey Kids! Join the Southern Belle for a pancake breakfast! Your breakfast will start with the scrambled eggs, sausage links, buttermilk biscuits & gravy, silver dollar pancakes with maple syrup and whipped butter, hash browns, chilled Orange juice, milk and coffee! After breakfast, enjoy a magic show and be razzled and dazzled and also enjoy a visit with the man in the big red suit!
Chattanooga Boys Choir's Singing Christmas Tree
Dec. 3, 12pm & 5:30pm
This year's Singing Christmas Tree will be an incredible feast for the ears and eyes this holiday season! Based on the theme The Night Before Christmas, students will be treated to a re-telling of Clement Clark Moore's classic poem narrated by WRCB weatherman Paul Barys. The members of the Chattanooga Boys Choir, Ballet Tennessee, and the Metropolitan Bells will "interrupt" Mr. Barys with musical interludes highlighting the classic story of awaiting a visit from Santa Claus. Traditional carols, favorite holiday songs, and Santa-inspired selections will put everyone in a festive mood for the holidays!
 
MainX24 24-Hour Festival
Dec. 3, 6:30am-Dec. 4, 6:30am  
Celebrate Main Street & the Southside district with a packed schedule of entertainment, green living, fashion shows, parades and parties, music and motion - on streets. Santa will be at the Choo Choo. Held annually the 1st weekend in December.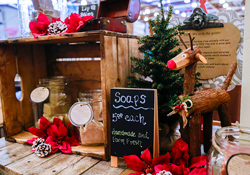 Special Chattanooga Holiday Market 
Dec. 3, 4, 10, 11, 17, 18; Times Vary
As part of the Chattanooga Market, this market offers a special holiday theme with live music, caroling, festivities and more than 200 vendors providing a great assortment of unique, locally hand-made items, holiday décor and artisan foods for all those holiday gifts. Held at the Chattanooga Convention Center. 
Caroling with the Fishes
Dec. 4, 6:00-8:30pm
The River Journey galleries will be decked with sounds of the season—including Jazzanooga, Dan Landrum on the hammered dulcimer, flutes, strings and more! Here's your chance to visit with Santa and take home a keepsake photo. Enjoy holiday shopping with special discounts and extended hours at the River Journey Gift Shop. Traditional family caroling with the Metro Musicians in the auditorium concludes this night of fun and good cheer.
The Nutcracker by Chattanooga Ballet
Dec. 9-11, 8-10pm 
Chattanooga Ballet presents Tchaikovsky's magical classic holiday ballet fully staged with music by the Chattanooga Symphony Orchestra. Held at the Tivoli Theater. 
Holidays in the Passageways
Dec. 15, 5:30-7:30pm
Downtown Chattanooga alleyways will be brimming with family friendly holiday cheer. An event to be held in the four #PassagewaysCHA alleys, everyone is invited to this free celebration that will span three city blocks for caroling; crafting; a variety of musical performances including a holiday set by local musician Danimal Pinson, Swayyvo on his saxophone and some of Jazzanooga's talented students; hot chocolate and free pictures with Santa and Mrs. Claus. All the festivities begin at 730 Cherry Street and end at 721 Broad Street.

River City Sessions: Appalachian Christmas
Dec. 15, 7:30-9:30pm
Join Mike Gray along with a few of your favorites from previous shows bringing you their favorite holiday memories in song, story and poetry. There will be more announced later but so far, the schedule includes: Trish Ferrell Wileman, Robert Cyphers, Butch Ross, Peggy Douglas, and Michael D. Gray. Adelles wil be open for this special show, bring your appetite! 

Moscow Ballet: Great Russian Nutcracker
Dec 21, 7pm
Moscow Ballet's spectacular Great Russian Nutcracker is the must-see event this holiday season! Celebrate the beloved Christmas tradition with the whole family as 40 world-class Russian artists bring this charming classic to life.  
Miracle on 34th Street at the Chattanooga Theatre Center
Dec. 9-23, Times Vary
Filled with humor, spectacle, and festive holiday songs, this joyous, heart-warming musical is pure family entertainment. 
Chattanooga Symphony & Opera: Home for the Holidays
Dec. 17, 7:30pm & Dec. 18, 3pm
Enjoy the Chattanooga Symphony & Opera's concert as they celebrate the holidays "Through a Child's Eyes" in this special, family-friendly tradition. Featuring the CSO and the Chattanooga Boys Choir.