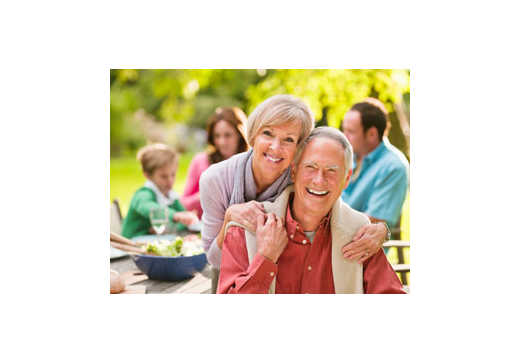 The Chattanooga Convention and Visitors Bureau specializes in helping to make planning your next reunion as simple as possible. We know which hotels can meet your reunion's specific needs and we offer full-service, mid-priced and economy priced hotels. We will listen to your requirements and then help you find the perfect hotel from the 100+ to choose from in our county. Our unique off-site venues and exciting attractions will provide family members with ample opportunities to create many happy memories.
Please fill out a Request for Proposal or contact Jeannie Tatum at 423-424-4459 or jeanniet@chattanoogacvb.com for assistance finding the right accommodations for your reunion.
We know planning a family reunion isn't easy, so the first step to success is to contact the Chattanooga Convention & Visitors Bureau reunion specialist. Chris Petro can provide valuable and complimentary reunion planning assistance, including a packet of information about the greater Chattanooga area and detailed guidelines for reunion planning.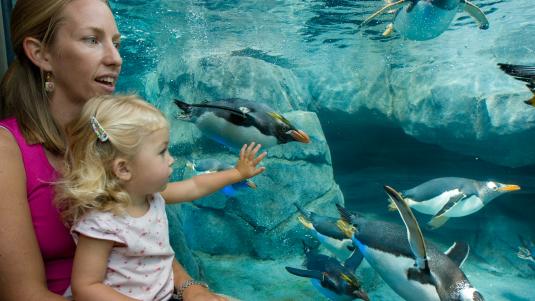 After you have determined your dates, expected attendance and budget, it's important to determine your reunion theme and location.  If most of your extended kin are urbanites, you'll want to keep a Downtown focus. If your crew is divided between lattes and granola, then staying on Lookout Mountain offers the best of both worlds – peaceful surroundings, adventurous activities with easy downtown access.

The history buffs will enjoy the Chattanooga National Cemetery, Chickamauga Chattanooga National Military Park and Coolidge Park. Many family members may want to take advantage of Chattanooga's rich African-American heritage at the Bessie Smith Cultural Center, Booker T. Washington State Park and the Zaire exhibit at the Tennessee Aquarium.
DOWNTOWN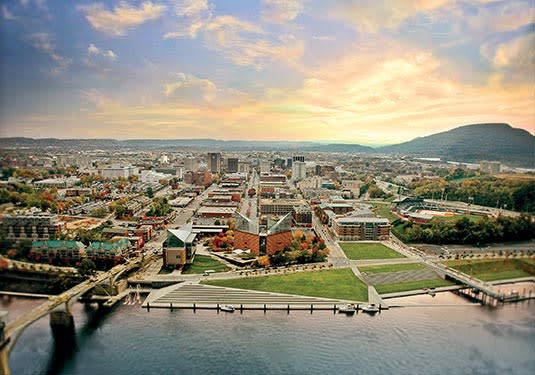 Where to Stay
One of the biggest benefits of downtown Chattanooga is its walk-ability, so you'll want to stick to hotels close to area attractions. If your reunion has a majority of championship shoppers, the Hamilton Place mall area was built for you.  We will be happy to help you determine which accommodations are able to meet your reunion's specific needs. If you wish to stay in cottages and cabins please contact the Chattanooga Visitors Center.
Things To Do
There's no shortage of activities and most of them offer group discounts. Catching a Lookouts baseball game is a great way to get the gang together. Groups of 25 or more can enjoy recognition on the AT&T Field video board and an announcement over the PA system and purchase tickets in advance to avoid game day lines. Children of all ages enjoy our award-winning Creative Discovery Museum and Chattanooga Zoo. A ride at the Tennessee Valley Railroad Museum is a unique Chattanooga activity everyone could on board with. No outing would be complete without visiting the Tennessee Aquarium and IMAX 3D Theater.
Options for adventures on the water abound. The Southern Belle Riverboat offers sightseeing, lunch and dinner cruises. The Chattanooga Ducks are not to be missed.  These WWII amphibious landing craft starts on land and then splashes into the water.
Art enthusiasts will be surprised at Chattanooga diverse creative culture. From the Hunter Museum of American Art and its magnificent view of the Tennessee River, to the Houston Museum of Decorative Arts and nearby River Gallery. All are located in the Bluff View Art District, a historic city block filled with restaurants, a coffee house, bed and breakfasts, sculpture gardens and courtyards.  Experience glass blowing first-hand at iGNis Glass Studio or head to Chattanooga's Southside.
Hit the town in style, by discovering downtown on the Chattanooga Double Decker bus. The tour covers areas such as the historic Fort Wood district, Tivoli Theatre and Warehouse Row. Or try our new trolley with Gray Line's Chattanooga Hop. Did you know the tow truck industry was created right here in Chattanooga in 1916?  Visit the International Towing & Recovery Museum and explore this rich history.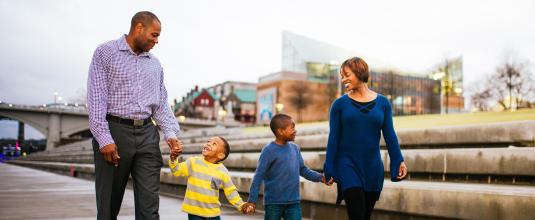 Where To Eat
Check out the diverse Chattanooga restaurants that will tempt you with delectable delights of every food origin - from BBQ to Mexican street food to an old-fashioned hamburger to fried chicken to many more.
LOOKOUT MOUNTAIN
Take a ride on one of the steepest passenger railways in the world -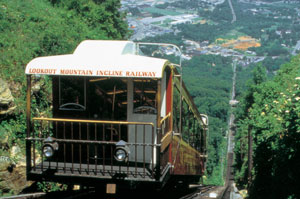 Lookout Mountain Incline Railway. Known as "America's Most Amazing Mile," the Incline's trolley-style cars climb through the natural beauty surrounding historic Lookout Mountain at a breathtaking 72.7% grade – straight up!  While you're up top, be sure to visit the many points of Civil War interest just a short walk away such as the Battles for Chattanooga Electric Map & Museum and Point Park, part of the Chickamauga -Chattanooga National Military Park system. After you descend back down to the Incline's bottom station, explore historic St. Elmo - where a wonderful collection of unique shopping and dining experiences await you!
 
If you prefer to admire rocks rather than climb them, enjoy the seven-states view at Rock City. In addition to breathtaking views and a trail featuring unique rock formations and gardens, this iconic natural attraction is home to more than 400 native wildflowers, plants and shrubs. For a subterranean adventure, see America's highest underground waterfall at Ruby Falls.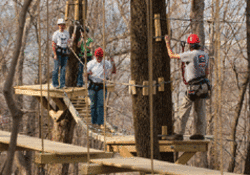 While you're there, check out their ZIPStream Aerial Adventure – perfect for family bonding. The suspended obstacle course on the side of Lookout allows you to skip along the treetops while soaking in beautiful views of downtown Chattanooga.  While you're there take time to explore Lookout Mountain's myriad hiking trails, rock climbing or even hang gliding.

Reflection Riding Arboretum and Nature Center is located at the foot of Lookout Mountain. A certified level four arboretum, numerous birds and wildlife call the property home including the bobcat and red wolves housed in the Wildlife Wanderland – a natural area with enclosures for native wildlife. The Nature Center offers 15 miles of trails; water access for canoeing and kayaking; and 317 acres of forest, field and stream.

Ready to bring your family together in Chattanooga?
Call Chris Petro at 423-424-4417 or email her at chrisp@chattanoogacvb.com
Please fill out a Request for Proposal