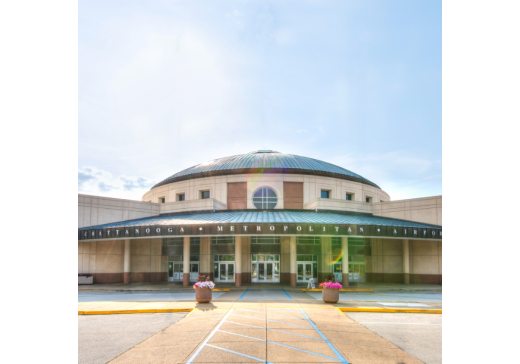 If you're searching for a quick and easy way to travel, try flying into the Chattanooga Airport. With little traffic, short security lines and several nonstop routes, you can take a stress-free trip and explore connections to countless destinations.
Chattanooga Airport offers direct flights to nine cities, including Atlanta, Charlotte, Chicago, Dallas, Detroit, New York, Orlando, Tampa Bay and Washington, D.C. A 10th nonstop destination, Philadelphia, will be added in May 2019.
2017 was another record year for Chattanooga Airport, boarding more than 484,000 passengers, which was a 16 percent increase compared to 2016. 2018 is on pace to surpass 500,000 passenger boardings.
In direct response to the rise in passenger boardings, the airport is constructing newly expanded parking facilities. The $3.4 million improvement project added 300 more spaces and a new lot, bringing the grand total to 2,100. The airport is currently expanding the surface lots and has plans to build a 4-level parking deck in front of the terminal.
Thanks to local public utility provider EPB, Chattanooga Airport also delivers the second-fastest Wi-Fi airport service in the United States and fourth fastest in the world. The free public Wi-Fi has a download speed of 30.98 Mbps.
The airport's commercial terminal was awarded LEED Silver certification in 2015. To receive the certification, the airport implemented greener practices such as recycling existing windows into glass countertops, installing ultra-low flow fixtures in restrooms and replacing incandescent bulbs with LED lights.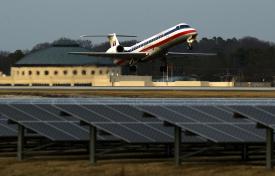 Central to its sustainability efforts, the Chattanooga Airport is on track to be the first in the U.S. to run fully on solar power. The airport's solar farm, located on the southwest corner of the airfield, contains thousands of panels and will generate three megawatts when complete.
Located at the Chattanooga Airport, Wilson Air Center provides the best services available for general aviation needs. When the 9,000-square foot corporate flight center received LEED Platinum certification in 2012, it was the only aviation terminal in the world to meet the highest possible level of energy and environmental performance.
From green efforts to lightning fast internet to nearly 10 nonstop flights and countless destinations, the Chattanooga Airport offers efficient service and endless opportunities. When you fly from Chattanooga, it's in, out, easy.