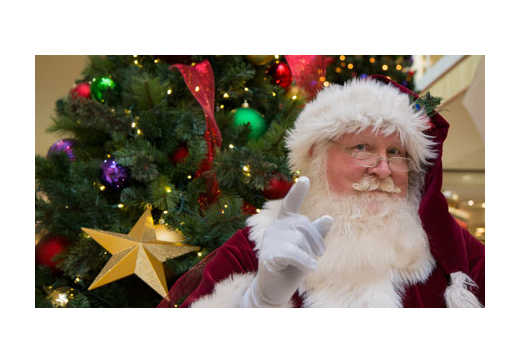 The Magic of Santa
It's the magical time of the year when Hamilton Place transforms into a wonderland of twinkling lights, families shopping, festive Christmas trees and of course Santa Claus!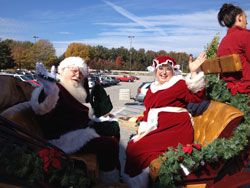 Santa arrived at Hamilton Place on Saturday, Nov. 4 during the annual Santa Arrival Parade. Seeing the wonder and excitement on little ones faces as they watched the parade is one of the great joys of the season.
During the holiday season, Santa not only sees and hears children's Christmas wishes, he also enjoys pictures with our four legged furry friends. On Nov. 6, 13, 20 & 27 from 6–9pm, Santa transforms into Santa Paws. It is a special treat to have dogs of all sizes, cats, the occasional gerbil and rabbit, enjoy pictures with the big guy. This year, we will also be celebrating our Chattanooga Police Department K-9 Units. These unsung heroes of our community will be on hand during our special pet photo nights to meet the public.  It is your chance to say thank you to these remarkable officers that serve and protect us daily!
Also, if you're a fan of the Chattanooga Mocs, don't miss Santa MOCS who will visit for one night only during the holiday season. Santa will proudly wear his UTC suit of blue and gold on Tuesday, Nov. 14 from 6-9pm. Scrappy - UTC's lovable mascot - cheerleaders and basketball players will be on hand to make this one night only event extra special.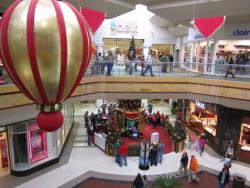 This year on Thanksgiving, Hamilton Place will remain closed so that families can enjoy time together, but we have devised a wonderful way to put the "FUN" back into Black Friday. Expect incredible doorbusters and deals including goody bags for the first 250 shoppers at the mall Tourist Info & Guest Services Center, DJ's onsite ready to pump out the jams and give away hourly prizes from 6am-3pm, a chance to win a $250 shopping spree for you and a $250 shopping spree for your bestie, and there will be a Selfie Station to share your Black Friday photos on social media!
Guests will also have a chance to shop in Hamilton Place's newest store, H&M, which opened Nov. 2. With a broad variety of clothing and styles to shop, it's the perfect place to find gifts this holiday season.
All of the retailers will be rolling out the red carpet and offering their best deals of the season! Hamilton Place will have gift card giveaways and numerous ways to be a part of the excitement throughout the day. You will love being a part of the enthusiasm of families shopping together in search of that one perfect deal that makes Black Friday everything it should be!
The décor throughout Hamilton Place, the holiday kiosks set up in the mall, the
holiday music playing and of course the special holiday performances on the stage just add to the wonder and magic of the season. Hamilton Place also offers extended hours for shoppers that are early birds or night owls. Check out their upcoming hours below:
December 18th 8:00 am-11:00 pm
December 19th 8:00 am-11:00 pm
December 20th 8:00 am-11:00 pm
December 21st 8:00 am-11:00 pm
December 22nd 8:00 am-11:00 pm
December 23rd 8:00 am-11:00 pm
Christmas Eve 10:00 am-6:00 pm
This year, Chattanooga's Kids on the Block will have its annual gift-wrapping fundraiser. From Dec. 8-24, there will be wrapping stations at two locations (lower level near JCPenney and lower level Dillard's Women's Store) to help make the holidays even easier!
We hope you come out to Hamilton Place and experience the Magic of Santa and delight in the holiday décor throughout the mall. It is, after all, the most wonderful time of the year!