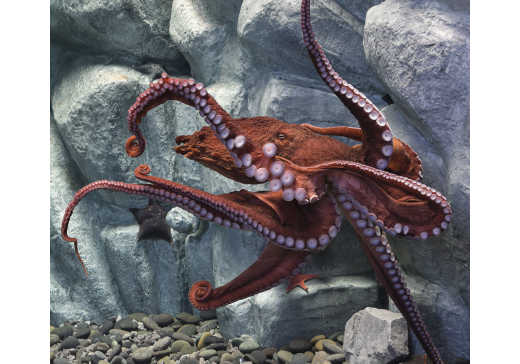 NEW - Pipefish, PJ (Squid) and More at the Tennessee Aquarium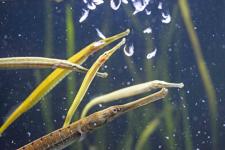 There's something almost magnetically fascinating about watching the graceful way a pipefish moves through the water. They have snout-like mouths and long, flexible bodies, which they maneuver by rapidly fluttering sets of fan-shaped, nearly-translucent fins.
Guests to the Tennessee Aquarium can take in a new display featuring rare freshwater examples of this predominantly marine family of fish in the River Journey building's Rivers of the World gallery. There are only 17 known freshwater species of Pipefish in the world, and the new exhibit features three of them, as well as schools of colorful Rasbora and the fiercely named Armoured Stickleback.
If they can escape the pipefishes' hypnotic pull, visitors can also explore the newly opened Tiny, But Mighty Important exhibit. This inviting space, also located in River Journey, uses interactive displays and cutting-edge technology — including a holographic animation — to showcase why tiny fish like darters, minnows and shiners are important and to highlight some of the main threats to their survival. Many of these displays — as well as tanks full of spackle-flanked Barrens Topminnows — intentionally are located at knee-height to make the exhibit more appealing to children.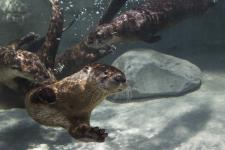 That's not to suggest the Aquarium has ever had trouble engaging its youngest guests. Since 1992, children exploring the Aquarium's first building have been won over by playfully romping and diving North American River Otters, the world's largest collection of freshwater turtles and the chance to touch dinosaur-like Lake Sturgeon.
In addition to the many wonders they'll experience in River Journey, however, a trip through its halls represents just half the experience. Each ticket to the Aquarium also includes same-day admission to the Ocean Journey building.
Located across the plaza from River Journey, this four-story attraction is built around the Aquarium's largest tank, the Secret Reef. As they follow the path around (and eventually under) this 615,000-gallon behemoth, visitors will see flashing schools of colorful fish, prowling Sandbar and Sand Tiger Sharks and a pair of charismatic Green Sea Turtles.
Although Secret Reef is the star of the show in Ocean Journey, it faces stiff competition. As they explore, guests also will encounter agile and endangered Malagasy wildlife in Lemur Forest, lay fingers on sharks and rays in Stingray Bay and laugh at the speedy underwater acrobatics of Gentoo and Macaroni Penguins in Penguins' Rock.
New to Ocean Journey, a new display of Striped Pyjama Squid in the Boneless Beauties gallery features several dozen of one of the world's cutest invertebrates. These diminutive cephalopods are near-relatives of the Cuttlefish, but much smaller. Like their larger tentacled relatives, Pyjama Squid are masters of camouflage, but once you spy one of them tucked, near-invisibly into the exhibit's sandy bottom, the rest will seem to leap into focus like a delightful aquatic game of I Spy.
Across the street from the Aquarium, the IMAX 3D Theater features the largest screen in Chattanooga (a full six stories tall!) and an IMAX with Laser projection system that offers color and clarity unmatched by any other theater for hundreds of miles. Combination tickets offer the ideal way to save by pairing giant-screen fun with a trip to the Aquarium.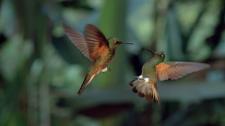 The newest addition to the theater's schedule, Conquest of the Skies 3D, features real-life imagery of all sorts of flying animals. These scenes are presented at an eye-boggling level of detail and from angles so novel they seem impossible to have been captured without the aid of computer animation. After the credits roll, guests can engage in citizen science and put what they've learned to the test by visiting the Aquarium for up close encounters with actual animal aviators like Snowy Egrets, native songbirds and dozens of species of butterflies.
It's always a good time to visit the Tennessee Aquarium, but with Spring Break just around the corner and so many new things to see and do, the attraction is stronger than ever.