Museums are meant to connect us with our past. But the Tennessee Valley Railroad Museum literally transports you to another era.
Despite having two daughters, my family has wanted to ride the train at TVRM for a while. What child doesn't like a "choo choo?" So we arrived at Grand Junction Station on a beautiful Sunday afternoon, the sun glinting off about a dozen parked locomotives just beyond the parking lot.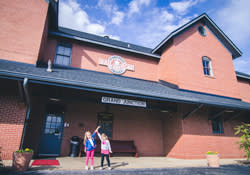 You can walk through this smorgasbord of historic train cars – all purchased and refurbished by TVRM – but the real show lies on the other side of the small, brick depot. We enter the station and I'm immediately transported to a Florida train trip I took as a little girl. Dark, wooden benches fill the waiting room, with a historic ticket desk in the corner.
We purchase our tickets in the small gift shop and head to the platform where the Missionary Ridge Local is waiting. Antique baggage carts line the back wall, and I feel as if I could be waiting for Mary Crawley to arrive any moment.
I'm not the only one who sees the cinematic quality. Movies such as 42, Water for Elephants and October Sky have filmed in Chattanooga because of the TVRM, one of the few remaining institutions to run historic trains in the United States.
We climb aboard and settle into our seats. The conductor comes by shortly after to punch our tickets (a nice touch) and the whistle blows. We start rolling on our almost hour-long journey to Chattanooga's East Station.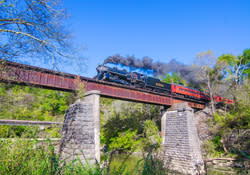 Most of the trip is narrated with interesting train history as we chug along one of the original railroad lines in Chattanooga. The route crosses four bridges and passes through Missionary Ridge Tunnel, a pre-Civil War structure that was dug entirely by hand. Completed in 1858, it only allows 10-12 inches clearance on either side.
We pass over Chickamauga Creek, balanced on tracks 65 feet above the water. Gray steam floats by our window, reminding us we're riding on one of the few remaining operational steam engines in the country. The 4501 engine is one of the largest in TVRM's fleet, spanning 80 feet and weighing 80 tons. The highlight happens at East Chattanooga station, when they must turn this steel beast 180-degrees on an antique turntable to return to Grand Junction. Both the engine and turntable date back to the early 1900's.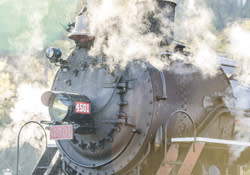 'The entire TVRM operation perfectly captures the "can do" spirit of American train travel. Since its inception in 1961, odds have been stacked against the nonprofit. It began as a few railroad fans buying steam engines and passenger cars that otherwise would've been scrapped. Like The Little Engine That Could, the non-profit has been chugging along for more than 50 years thanks to dedicated volunteers and donations from the community as well as the Southern Railway.
Keeping Chattanooga's rail history alive is a costly endeavor. For example, the 4501 was out of service almost 16 years before the TVRM crew could restore it to its former glory. Repairs and restoration can take anywhere from 4 to 20 years and costs millions of dollars.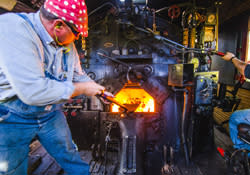 Our "layover" in East Chattanooga allows for a tour of the restoration shop, where all the repair work takes place. All parts are either fabricated or refurbished, often by a crew of skilled volunteers. The shop is one of the only places in North America where you'll find under one roof all the equipment needed to work on historic trains, which often weigh between 80 and 200 tons.
As we board the train to return to Grand Junction, I wonder what train travel will mean to my daughters' generation. With our society becoming more and more virtual, I'm grateful for this real-life experience. I only hope the next time they read a story or see a movie about trains, they'll recall this ride back in time.