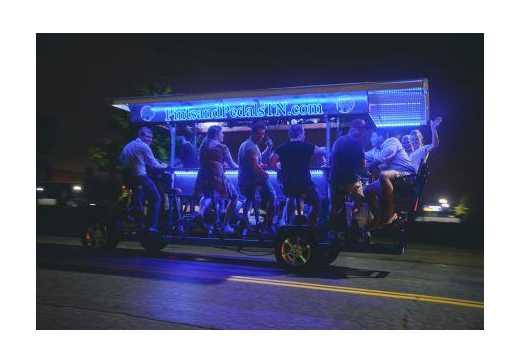 Friday nights in Chattanooga are always bright. Each weekend, you will find yourself immersed in a vibrant nightlife scene, including neighborhood breweries, live music venues, late-night restaurants, hot spots bars, and a friendly crowd. Here's a guide on how to spend your Friday evening in the Scenic City.

                                                             WHAT TO DO
Live Music: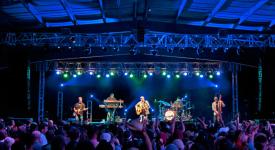 Located in the heart of downtown is the historic Tivoli Theatre, home of the Chattanooga Symphony & Opera, and Soldiers and Sailors Memorial Auditorium, both of which feature regular national acts such as The Avett Brothers, Jason Isbell, and Ben Folds. If you're in the mood for a more casual setting, the Honest Pint has pool tables and local live music. Closer to the water, Puckett's Grocery serves authentic comfort food with live pickin' performances near your seat. If you find yourself in Chattanooga during the warmer months of May-September, be sure to head to Miller Plaza for Nightfall, a free outdoor music series every Friday night, featuring food, beverages and great music of all genres. 
Comedy: 
Located at the historic Chattanooga Choo Choo, The Comedy Catch features comedians such as Jerry Seinfeld and Tim Meadows and offers a full bar and grill for your comedic entertainment.
Guided Pub Tours: One of the best ways to take in all of Chattanooga's nightlife is through a guided pub tour. Grab your friends and start peddling to some of the best bars in town through Pints and Pedals or Chattanooga Brew Choo – it's a party on wheels. Don't feel like pedaling? Kick back and relax at the Chattanooga Brewing Company for a taste of local flavor, or head to the Tennessee Stillhouse for a whiskey tour.
Karaoke: Feel like singing? Try your hand at karaoke bar Sing it Or Wing It.

______________________________________________________________________________________ 
                                                           WHERE TO EAT 

Happy Hour:
Bluewater Grille: Fridays, 4-7pm, $2 off wine, $2 off draft beers, $6 specialty cocktails, appetizers $5-$7.
Local 191 at Blue Plate: Fridays, 4-7pm, $1.50 off menu price cocktails, $3.50 well liquors, $1 off price of draft beers, $2 off menu price wines.
The Social at The Public House: Fridays, 2pm-7pm, $2 off menu cocktails, $4 premium well drinks, $5 select glasses of wine, $1 off draft beer, $5 bar snacks.
Appetizers:
The FEED Co Table and Tavern, serving a farm fresh menu with regular bluegrass performances. Recommended dish: Brussel Sprouts + Artichoke Dip
The Terminal Brewhouse, only world-class beer and exceptional food make it to your table. Recommended dish: Pot Roast Nachos
The Meeting Place at St. John's, an evolving variety of small plates and entrees encourage conversation and stimulate the senses.  Recommended dish: Roasted Pork Belly
Entrées:
Dessert:
Hot Chocolatier, specializing in handmade Artisan Chocolates & Pastries created in small batches.
Rembrandt's Coffee House, a European-style cafe that roasts its own coffees, bakes its own breads, pastries and desserts and even make its own fine chocolates.
Clumpies Ice Cream Company, each batch of Clumpies ice cream is made by hand with only the finest ingredients that can be found. 
Milk and Honey, serving handcrafted coffees, gelato, homemade paletas, and a variety of other baked treats 7 days a week. 
Late-Night Dining:
______________________________________________________________________________________ 

                                                          WHERE TO STAY
Adventurous:
The Crash Pad, a hostel offering visitors a dynamic, social environment where meeting fellow travelers and exploring the city is a welcome alternative to flipping channels. 
Train Car at the Chattanooga Choo Choo, be reminded of a past era while enjoying all of today's conveniences and amenities while staying aboard a Pullman Train Car.
Affordable:
Upscale:
The Chattanoogan, recipient of numerous awards and accolades including Chattanooga's "Best of the Best" full-service hotel.
The Read House, listed on the National Register of Historic Places for its beautiful Georgian architecture.