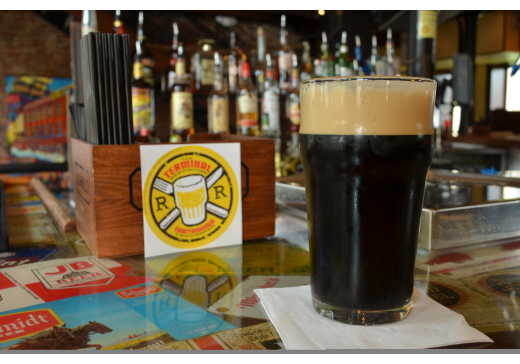 A visit to Chattanooga calls for a lot of exciting activities: spending sunny afternoons on local trails, convening with the famed aquarium's many creatures, perusing the art museum's unique collections, and wandering the lively streets of downtown. Recently, Chattanooga has added one more crucial feature to a visitor's list of must-dos—sample the local beer.
As craft beer and microbrews have gained momentum over the past decade, breweries and tap houses have sprung up all over downtown Chattanooga, each with its own quirky flavors. The proximity of each brew house and Chattanooga's exceptional bike share program give visitors a golden opportunity to spend a day doing a self-guided bike and brew tour of the city.
We've narrowed it down to four of Chattanooga's funkiest watering holes that can be easily connected by bicycle in under five miles. Here, we've opted to begin at the furthest beer spot and work toward the city center, but the route can be easily completed in either direction.
1. The Tap House
Located in historic St. Elmo just minutes from Downtown Chattanooga, The Tap House (3800 St Elmo Ave, No. 114) features 30 beers on tap. From quality craft beers, to local brews, to gluten free ciders, you are sure to find your next favorite beer from the rotating selection. Hang out on the patio and enjoy the quaint charm of St. Elmo and Lookout Mountain before you head to your next destination.
Roll on: Grab your bike and head north on Tennessee Avenue toward Broad Street. Hang a slight right onto Broad Street and find your next destination ahead on the right.
2. Moccasin Bend Brewing Company
"Still here, still weird," the huge sign at Chattanooga's second oldest brewery reads. Moccasin Bend Brewing Company (3210 Broad Street) has been around for 10 years with a commitment to making beers as memorable as the inhabitants of Chattanooga. A couple of miles outside of downtown, MBBC has a distinct "Mexican restaurant" atmosphere, with games and couches instead of chips and salsa. Visitors can play cornhole on the spacious back patio and enjoy open mic night every Thursday. With about 15 house brews on tap, every weirdo who wanders in is sure to find a suitable beer.
Roll on: Head northeast on Broad Street toward West Main Street. Turn right onto West Main Street and then left onto Market Street. The Terminal Brewhouse will be on your right.
3. The Terminal Brewhouse
The Terminal Brewhouse (1464 Market Street), with classically delicious beer and food, is notable for the utter strangeness of the building it occupies—a skinny, three story triangle of a structure that seems to jut into Market Street at an nonsensical angle. Originally a hotel for train passengers, The Terminal now has an extensive food menu (complete with some pretty hilarious commentary), and it is a perfect lunch spot on your tour. There are five staple beers on tap (including Rock Out With Your Bock Out and Dead Sexy Scottish), plus a sixth beer that rotates seasonally.
Roll on: Head north on Market Street past the Chattanooga Choo Choo. Turn left onto 4th Street and then right onto Broad Street. Big River Grille and Brewing Works will be on the right.
4. Big River Grille and Brewing Works
Located in a historic trolley barn in the heart of downtown, Big River (222 Broad Street) is a staple of life in Chattanooga. Offering a dozen craft beers and a huge selection of food, this is the perfect place to end your brewery tour with a scrumptious dinner (and more beer). Outside seating provides prime people-watching opportunities while you cool off and celebrate your bike and brew tour at one of Chattanooga's most iconic restaurants.
Bonus: TapTour Chattanooga
TapTour is a self-guided jaunt to and through Chattanooga's finest breweries and beer drinking communities. Snag a Brew Guide from any of the participating locations to collect stamps and earn prizes just for drinking your favorite brew! Check out the Honest Pint, Hi-Fi Clyde's, and the Hair of the Dog Pub for a great selection of draft and bottled beers.