Chattanooga is home to a wide array of live music venues, from intimate hole-in-the-wall's, to majestic seated theaters, to open dance floors, there is a unique experience offered for each artist and attendee.
But if you're someone who prefers to enjoy bands in a cozier setting over some food and beverage, then, here's a list of bars and restaurants with live entertainment.
1) Puckett's Grocery and Restaurant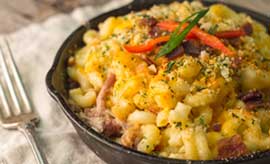 Click here for the menu.
See an upcoming performance. 
Puckett's Grocery & Restaurant is a friendly community kitchen, with live pickin' performances just a few feet from your table.  At Puckett's, the main ingredients are real food, real people and real atmosphere. Come on in y'all!
 
2) Clyde's on Main 
Click here for the menu.
See an upcoming performance.
Located on Main Street, Clyde's offers ping pong, shuffle board, tasty food, great beer, and plenty of live entertainment. Open late.

3) The Camp House 
Click here for the menu.
See an upcoming performance.
A bustling coffee shop and food café by day, the Camp House turns into a versatile entertainment venue by night, offering a close-up experience for both the seasoned and rookie concert-goer. Camp House's calendar is always full, showcasing a variety of genres from regional and local talent.
4) The Palms at Hamilton 
Click here for the menu.
See an upcoming performance.
The Palms at Hamilton consistently provides an atmosphere where customers enjoy their meal, sip fine cocktails, and dance the night away to the sounds of a DJ or live entertainment.
5) The Flying Squirrel 

Click here for the menu.
Flying Squirrel, known for its seasonal & local ingredients offers a variety of innovative dishes in a casual, yet contemporary environment. Sunday brunches, held from 11am-4pm, feature live music every week, plus drink specials.
6) The FEED Co. Table and Tavern 
Click here for the menu.

See an upcoming performance.
Located in Chattanooga's thriving Southside, The FEED Co. is an artful combination of tavern and family dining with a stunning destination, and an inviting farm fresh menu. Head to its front porch for live performances from some of the best local talent in town. 
7) The Meeting Place at St John's 
Click here for the menu.
Located next door to flagship sister St. John's Restaurant, Meeting Place offers the same quality cuisine, attention to detail and hospitality in a more casual atmosphere. On Thursday evenings, sit back and enjoy stimulating flavors as you take in the sounds of a local jazz musician from 6-9pm.
8) Memo's Grill 
Click here for the menu.
Historic Memo's Grill, one of the oldest African American Restaurants on MLK Blvd, hosts Jazzanooga's monthly Juke Joint Sessions, an evening featuring great music and food flavors deep rooted in the south. Get ready to have a hand clapping & toe tapping evening along with GREAT FOOD! Held the 4th Thursday of every month.
9) Firebirds Wood Fired Grill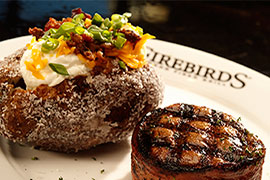 Click here for the menu.
Firebirds Wood Fired Grill is known for classic American, wood fired grilled entrees. This fall, enjoy the sounds of local Chattanooga artists outside on the patio as you enjoy some amazing food & drink.   
10) The Foundry 
Click here for the menu.
The Chattanoogan Hotel's upscale lounge, The Foundry, offers a delicious menu of appetizers, salads, sandwiches and light entrees. It also features live music from a local artist every Friday and Saturday night from 8:30pm-12:30am. 

11) Brewhaus 
Click here for the menu. 
See an upcoming performance.
Located in Chattanooga's Northshore neighborfood, Brewhaus isaGerman-American gastro pub, emphasizing chef driven food, paired with good ale & wine, in a casual setting. Head there for good food & beer, a great view of the Walnut Street Bridge, and local live music! 
12) Southern Belle Riverboat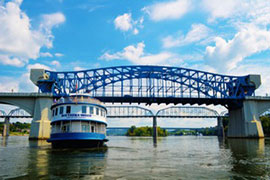 Click here for the menu.
Join the crew of the Southern Belle on its 450 passenger riverboat for sightseeing, lunch and evening dinner cruises. Sightseeing and lunch cruises are fully narrated to showcase Chattanooga's rich history, and evening dinner cruises always offer live music for a foot stompin' good time. Check its list of offered cruises to see which one is right for you.
13) Café 7 at Rock City 
Click here for the menu.
Café 7, an outdoor dining experience at Rock City, offers beautiful scenic views along with catchy mountain music from performances by the Old Time Travelers and other various local acts. Held on summer weekends, May through September.
14) Jim Oliver's Smoke House
Click here for the menu.  
Catch some of the most talented "rising Nashville stars," and legendary mega hit songwriters. LIVE Music at the Smoke House...every Friday and Saturday night, doors open at 6:00pm with two live shows each night, no cover charge; featuring a mix of Country, Pop, Blues, Bluegrass, and Folk. Live music shows start at 7:00 pm (Central Standard Time) with 3 hours of awesome live entertainment along with a delicious menuthat would make Paula Deen envious; smoked BBQ ribs, smoked roast beef, southern fried chicken, skillet corn bread, and over 300 choices of their own BBQ sauces. 
 
15) 1885 Grill

Click here for the menu.
1885 brings a grand and cabaret livelihood to St. Elmo. It not only provides beautiful coastal cuisine but, a meeting ground and common place for men and women from all walks of life. Enjoy live music on the patio. 
16) Embargo 62
Click here for the menu.
The sweet hum of the music of the islands will transfer any visitor to this Northshore destination to the coast. This paired with some of the freshest food and cocktails in the area is sure to be a nice break from the everyday hustle and bustle.