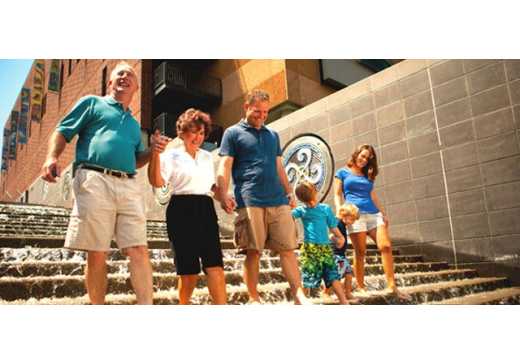 The words "stress" and "Spring Break" usually aren't uttered in the same sentence…unless you're a parent. Then you're probably already anxious at the thought of having to keep your kids entertained for one whole week (without going crazy or blowing the budget).Here are a few tips to keep everyone happy and healthy during this annual escape.
Give everyone a voice. This is a FAMILY vacation, so make sure everyone has input. Choose your destination early and keep your kids informed. The family in this video planned a surpise trip to Disney World and found out their kids were quite upset because they didn't get to go to Chattanooga.  The video went viral and has had more than 600,000 views…



Once you arrive, a democratic approach is still a good strategy. Melissa Finch of Lookout Travel recommends drawing straws. The person with the longest straw chooses an activity for the first day, the second longest chooses for the second day, and so on.

Hit the road. Sure, traveling by air is great…long security lines, checked baggage fees, strict carry-on rules, a well-timed meltdown at takeoff that results in sideways stares and stink eyes. Our advice? Check out tourist destinations within driving distance. Consistently included in top travel lists, Chattanooga was named No. 25 on New York Times' list of Top 45 Destinations for 2012 – the only domestic city in the top 25 besides San Diego and Oakland, CA.

Hitting the highway in the family car has become a lot more glamorous with the evolution of DVD players, tablets and smart phones. But traveling by car has other old-school perks, such as:
The freedom to make unexpected stops or detours. When else will your kids see the "World's Largest Ball of Twine"?
Teaching kids about navigation by letting them read the map. (You know, that old paper thing gathering dust in your glove compartment). In our GPS-fueled world, this may be their only opportunity at orienteering.
Saving money. Not only will you skip car rental fees and airfare, traveling by car affords you more freedom to pack food in a cooler or, say, the family pet.
Allow for downtime.
Exhaustion spells meltdown, so be sure not to overload the schedule. Finch recommends planning no more than two activities in the morning – when kids have the most energy – and one activity for the afternoon. "After lunch, rest for a couple of hours by napping, playing board or card games then go back mid-afternoon for a couple of hours," she says. If older kids want to skip downtime, have one adult stay behind and one adult go out; then switch the next day.

TIP: A hotel with a pool is a major perk for stress-free entertainment.

Pack a bag of tricks. Even if you're beating the system by staying close, you're still traveling with ticking time bombs. Err, I mean kids. A few surprise games or toys up your sleeve (and in the front seat!) can ease travel tensions. Other items within reach could be pajamas if traveling at night, snacks and drinks.

Upon arrival it never hurts to plan a few treats for motivating good behavior. In Chattanooga that list would include Clumpies Ice Cream, a trip up the Lookout Mountain Incline Railway, a ride on Coolidge Park's 100-year-old carousel or a pick-your-topping night at Lupi's Pizza (in addition to whole pizzas they sell by the slice, even at dinner).

Get Outside. Spring Break is a rare opportunity for kids to blow off steam and act like, well, kids. Outdoor options abound in Chattanooga, but just to name a few…
Chattanooga Riverfront – walking or biking within range of Chattanooga's top downtown attractions
Enterprise South Nature Park – hiking, biking or picnic areas in an urban oasis
Greenway Farms – walking, hiking, flat-water kayaking or biking
Coolidge Park –expansive greenspace on the Tennessee River; 100-year-old carousel; interactive water play fountain; restaurants; The Walnut Wall – a climbing wall on one of the Walnut Street Bridge's limestone supports
Cruises on the Tennessee River

Seek out learning opportunities. Play your cards right and your kiddos might actually learn something without realizing it. In Chattanooga that would include: 
Commemorate the experience. Encourage your kids to commemorate the vacation in the medium of their choice – written, pictorial or even video journal.
Chattanooga has a unique fun Spring Break Safari program that includes fun activities at Attractions around town.  There's also a new Scavenger Hunt.
Click here to learn more about Chattanooga's Spring Break Safari