ATTRACTIONS
Adventure Sports Innovation offers latest innovations for outdoor experiences: The only company in the world that offers this selection of technology, Adventure Sports Innovation brings the latest inventions and innovations for outdoor experiences to Chattanooga. ASI offers water, land, and VR experiences that allow the community to explore Chattanooga in a fun and safe environment. Adventure seekers can surf on the Tennessee River, hang glide in a virtual reality, or ride down the Riverwalk on an electric unicycle. (July 2018)
River Drifters Chattanooga outdoor water gear rental and restaurant: River Drifters is a one-stop-shop for good food and outdoor recreation located just minutes from downtown Chattanooga. River Drifters offers single kayak, tandem kayak, and stand-up paddle board rentals; free parking; direct access to the water; and an onsite restaurant that features elevated casual food such as sandwiches, salads, burgers, and locally crafted beer on tap. Paddle boarders and kayakers can easily launch into the Tennessee River using the boat ramp across the street and then enjoy lunch or dinner when they return from their outdoor excursion. (July 2018)
Ruby Falls opens first phase of $20 million expansion: Phase I has been unveiled and offers a whole new guest experience at the 88-year-old attraction. Highlights include a new entrance and ticket atrium; timed-entry ticketing; self-service kiosks; accessible Blue Heron Overlook; shaded open-air dining; Village Gift Shop; and the Village Plaza that serves as a gathering place with live music and food carts (seasonal). Ruby Falls is committed to preserving and protecting natural resources of the environment by incorporating more than 40 LEED strategies in the green design of the new venues including additional solar panels, LED lighting, and an 8,000-gallon rainwater collection system for irrigation. Phase II of the 10-year, $20 million expansion will include expanding food services, creating more spaces for guests to relax, and converting the former gift shop into an event venue space. (June 2018)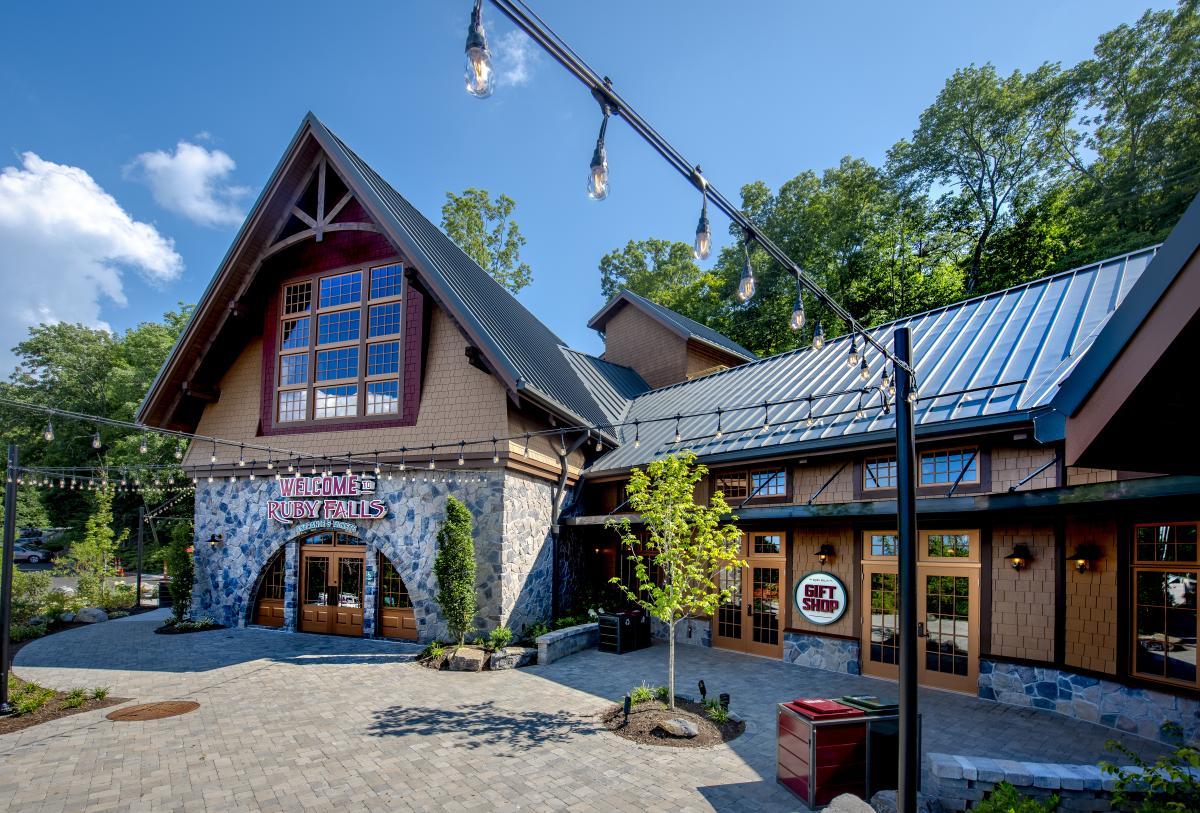 Chattanooga Choo Choo ongoing $20 million renovation: The Chattanooga Choo Choo, located in the Southside District, has been undergoing major renovations and additions of new restaurants, bars, attractions, shopping, and entertainment. New additions include: Songbirds Guitars, Songbirds North & South Stages, Frothy Monkey, STIR, American Draft, Regan's Place, Westbound Bar, Refinery 423, Sweetly Southern, Back Stage Bar, and the relocation of The Comedy Catch. Renovations include upgrades to the 108-year-old Terminal Station lobby, Glenn Miller Gardens, and Building 1, and conversion of Buildings 2 & 3 into apartments. Station Street, formerly an alleyway, was renovated to become pedestrian friendly, provide patio access to the restaurants and entertainment venues, and provide an outdoor space for special events. Station Street recently became the 11th street nationwide to allow on-street consumption of alcohol (only from businesses adjacent to the street). Across the street from the Choo Choo, there's Terminal Brewhouse, Chattanooga Whiskey, the Hot Chocolatier, Wildflower Tea, Blue Orleans, the South Station for the free electric shuttle, and much more.
Escape Experience expands to the Chattanooga Choo Choo: Escape Experience Chattanooga is going off the rails with their latest escape room game, the Runaway Train Transport. The new escape is in an actual train car at the Chattanooga Choo Choo. With help from the Tennessee Valley Railroad Museum, the room mimics the sights, sounds, and feel of an out-of-control train creating a truly unique escape room experience. Additional Escape Rooms include The Bunker, Vaccine, The Inheritance, and the C-Block Prison Break. This is a great activity for large groups and to use as a team-building experience. Hours: Mon.-Sat., 9 am-11 pm & Sun., 1:30-8 pm. (June 2018)
Sweet Magnolia's offers new customized walking tours: The new customized walking tours highlight Chattanooga's neighborhoods, history, arts and culture, and more. The 90-minute tours take you to several points of interest including the Bluff View Art District, Northshore, Southside, Walnut Street Bridge, Coolidge Park, Renaissance Park, and along the Tennessee River. Sweet Magnolia's also offers themed walking tours including Chattanooga's Influential Women, Chattanooga's Great African American Inspirations, Discover Downtown Chattanooga Tour, and Southside and the Big Nine Tour. (June 2018)
See the sights aboard The Chattanooga Tennesseer, an open-top conversion van: Enjoy the scenery and learn about Chattanooga's rich history aboard the Chattanooga Tennesseer. The open-top conversion van accommodates up to 10 people and covers more territory than any other tour in Chattanooga. Each one hour tour includes stops at AT&T Field, the Brabson home, underground Chattanooga, The Tivoli Theater, the Chattanooga Choo Choo, Warehouse Row, the Bessie Smith Cultural Center, Bluff View Art District, and Coolidge Park. (June 2018)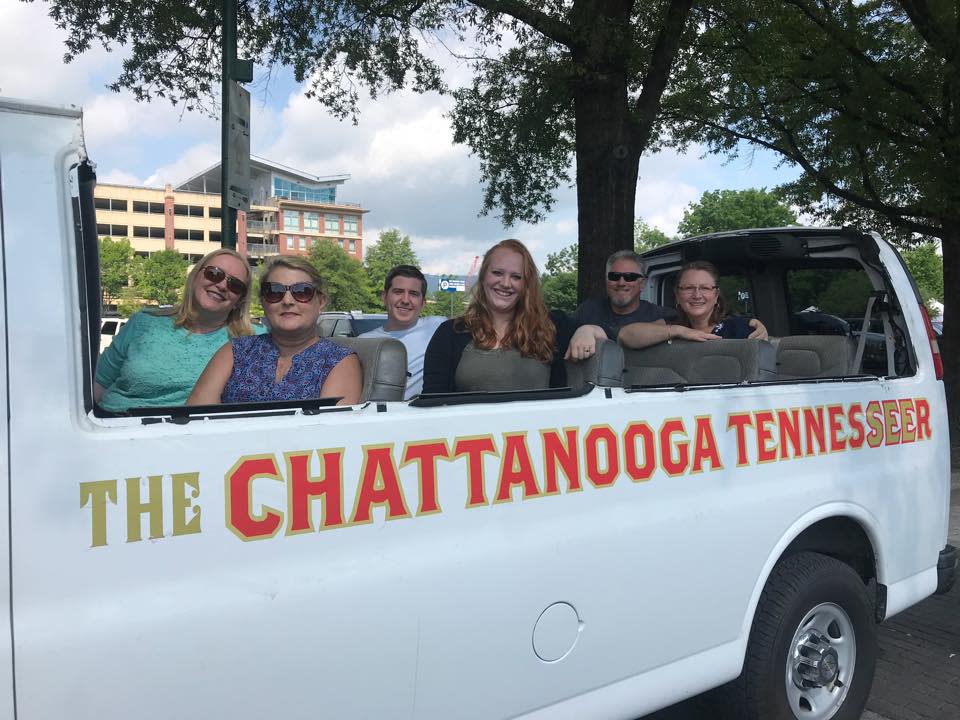 New 10-mile Summit Knobs Equestrian Trail now open at Enterprise South: The Summit Knobs Equestrian Trail is the newest area that can be explored at Enterprise South Nature Park. Along with the new horse trail, Enterprise South has 9 hiking trails, 5 biking trails, and 4 drivable routes within the 2,800-acre park. The new 10-mile trail feature waterless bathrooms, posts where people can take breaks and rest with their animals, an information kiosk with trail maps, two water trough stations, and a 40,000-square foot parking area. (June 2018)
Songbirds Guitars opens with rare and vintage pieces: Songbirds Guitars offers a unique rock & roll experience with an unparalleled permanent and rotating collection of more than 500 rare vintage instruments. Each display features instruments that made the music as well as the stories and artists that brought them to life.  The main exhibits are self-guided and the All Access Tours include a guided tour through the main exhibits and access to the Green Room and the Vault, where some of the most exclusive guitars in the world are displayed (require advance registration). The museum also offers regular live music at their North and South Stages, workshops, and can be booked for special events. (March 2017)
New Music Venue, The Signal, opens on Chattanooga's Southside: The Signal is Chattanooga's newest live music venue located on Chattanooga's vibrant Southside. The 1,300-capacity industrial-chic warehouse is fit for live music, receptions, fundraisers, corporate events, video shoots, trade shows, and conferences. Operated by Marathon Music Works out of Nashville, TN, the venue will host all genres of music with artists such as Gramatik, Corey Smith, X Ambassadors, and more. (Feb. 2018)
Songbirds Guitars adds Songbirds South music venue: Songbirds Guitars expanded into the 14,000 square-foot space downstairs, formerly the Revelry Room music venue. The renovated space features a new sound system and an atmosphere that ties into the collection of rare, vintage guitars and fretted instruments that can be found upstairs. The renovated South Stage can hold more than 500 guests and offers two full bars, lounge area, brand new sound system and lighting, and VIP seating. Songbirds Guitar's North Stage, located upstairs, provides an intimate listening room experience for up to 200 guests with a full-bar and seating. (Feb. 2018)
Miller Park undergoing $8.5 million renovation: Miller Park, located in downtown's Innovation District, is undergoing major  renovations that include elevating the park to street level, a larger open lawn, amphitheater with stage for entertainment, climbable rock outcropping, shaded area, more trees, garden walk, and an enclosed pavilion with restrooms, warming pantry for food, and a moveable glass partition. Additional $5 million improvements to the area around Miller Park include: connecting Miller Plaza, adding trees to the median on MLK Blvd., making the area more pedestrian friendly, redesigning traffic and pedestrian flow on Patten Parkway, and more. (Ribbon Cutting is scheduled for Friday, Sept. 14, 2018.)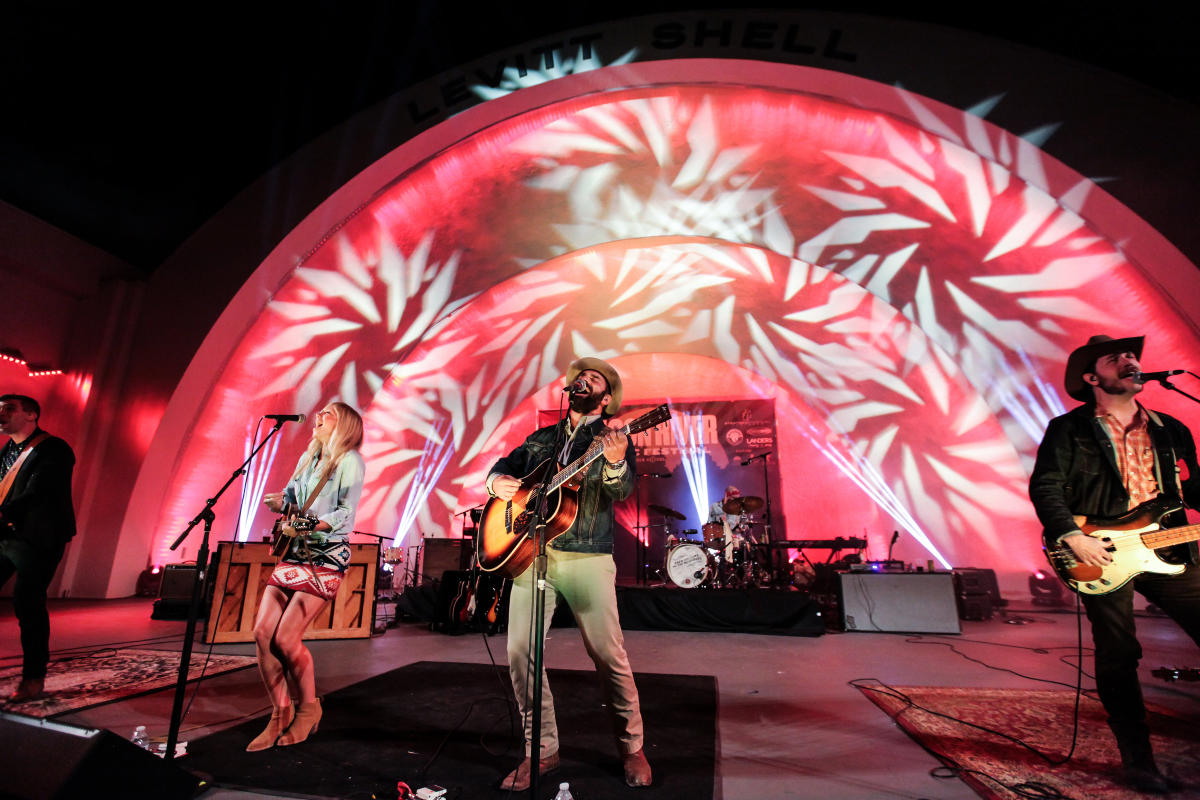 FESTIVALS & EVENTS
Moon River Music Festival moves to Chattanooga in 2018: Founded in 2014 by musician Drew Holcomb, the annual Moon River Music Festival is an exciting, family-friendly, two-day event highlighting the music and culture of Tennessee. Originally taking place in Holcomb's hometown of Memphis, Moon River has grown into an important and beloved institution in the Tennessee community. Now in its fourth year, Moon River will continue its celebrated tradition of bringing specially curated music lineups and community-focused experiences in its new location at Coolidge Park and will feature 20 national acts, 2 stages, local food vendors, and more. The 2018 lineup includes The Avett Brothers, The Head And The Heart, Drew Holcomb And The Neighbors, Judah & The Lion, Penny And Sparrow, and more. (Sept. 8-9, 2018)
Competitive paddling returns to Upper Ocoee River: After 17 years, competitive whitewater paddling has returned to the Upper Ocoee River in 2018. The Ocoee River Championships, a three-day whitewater event Aug. 24-26, will feature multi-class competitions in slalom, freestyle, downriver, boatercross, SUP, duckycross, and raft slalom. People can compete in more than one competition. In 1996, the Upper Ocoee was redesigned for the Olympic whitewater slalom competition which allowed for a narrower and deeper waterway that's ideal for competition. Proceeds support the Ocoee River Basin Foundation. (Aug. 24-26, 2018)
Levitt AMP Chattanooga Music Series returns Fall 2018: Chattanooga received the Levitt AMP Grant Award for the second year, an exciting matching grant program made possible by the Mortimer & Mimi Levitt Foundation. The MMLF is a national creative placemaking funder dedicated to strengthening the social fabric of America through the power of free, live music. The Chattanooga music series is 10 weeks of free music featuring a diverse lineup of local, regional, and national artists. Held on the lawn of the Bessie Smith Cultural Center located in the Martin Luther King District/Big 9, this series activates the area once considered a famed live music hub and center for African American community life while reestablishing it as a thriving cultural destination. Enjoy local food vendors, different themes, and special activities for children. (Thursdays, 6-9 p.m., Aug. 23-Oct. 25, 2018)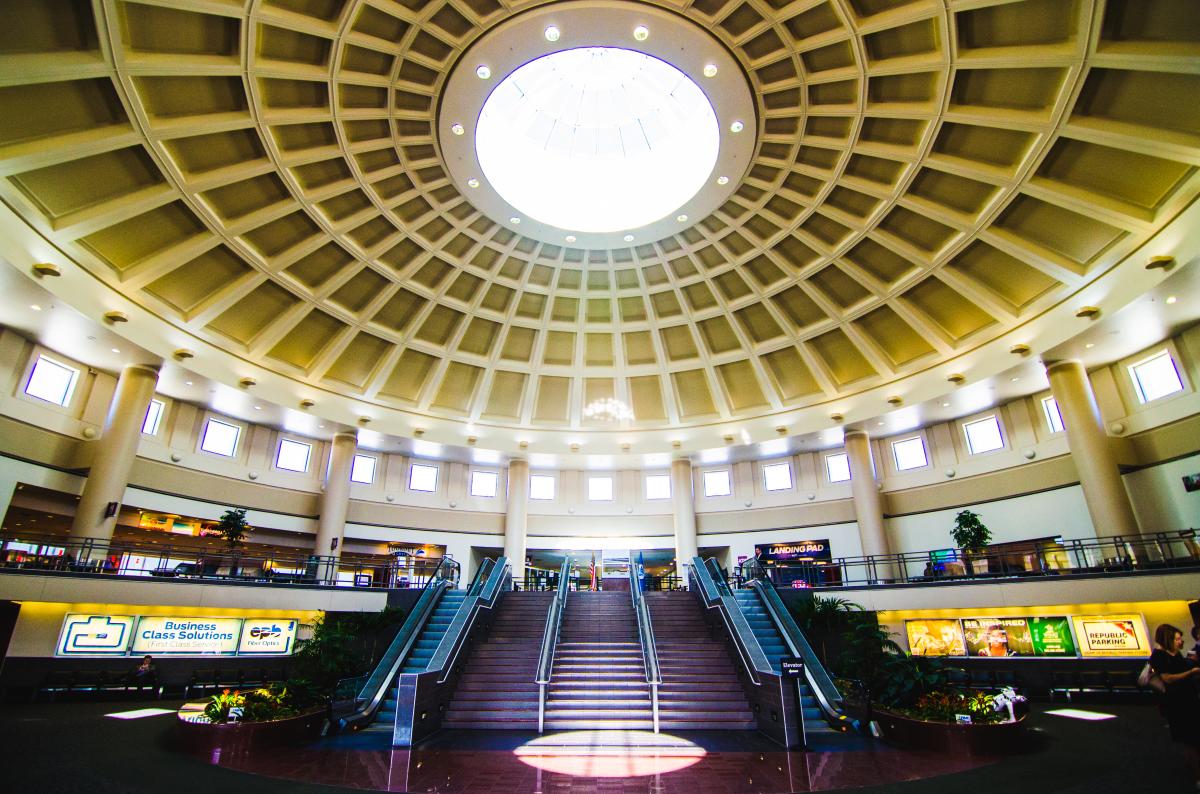 TRANSPORTATION
Chattanooga Airport adds additional direct flights to NYC, DC/Dulles, Dallas/Fort Worth, and Chicago/O'Hare: In June 2018, American Airlines added a 3rd round-trip daily flight to Dallas/Fort Worth and a 2nd daily round-trip flight to Chicago/O'Hare. Delta Air Lines became the 2nd carrier to offer daily nonstop flights between Chattanooga and NYC/LaGuardia on July 9 (United Airlines currently offers two roundtrip daily flights to NYC/Newark). Allegiant Air added a 3rd weekly departure to St. Pete/Clearwater for June and July (seasonal only). United Airlines will begin 2 daily departures between Chattanooga and DC/Dulles starting Oct. 4, 2018.
Gray Line of Tennessee starts The Chattanooga Hop On/Off trolley tour: The Chattanooga Hop takes visitors on a 60-minute tour and stops at 9 iconic attractions and points of interest. Guests can hop aboard/off the classic red & green trolley at any of the 9 stops. Tours start and end at the Chattanooga Choo Choo and run daily from 10 a.m.-5 p.m. Tickets can be purchased online, on board the trolley, or at the Chattanooga Choo Choo. The pass includes unlimited hop on/hop off privileges at all stops for two days. (March 2017)

CULINARY
Newly Opened Restaurants/ Tours
Aug. 2018/State of Confusion, one of the biggest restaurants to be developed in the Southside, will feature made-from-scratch Latin American, New Orleans, and low-country food including Peruvian ceviche, wood-fired steaks, and seafood. The 330-seat restaurant will be open for lunch, dinner, and brunch. (Southside)
July 2018/Kenny's Southside Sandwiches, opened by St John's Restaurant and St. John's Meeting Place owner Josh Carter, features fast and casual breakfast and lunch with fresh, local, house-made ingredients. (Southside)
June 2018/Scottie's on the River is a $2.3 million, 250-seat (with patio seating overlooking the Tennessee River), high-end steak, seafood, and oyster restaurant adjacent to the SpringHill Suites by Marriott/Downtown Cameron Harbor. (Riverfront District)
March 2018/Solarium is the Dwell Hotel's newly renovated restaurant located on the first level of the mid-century modern, luxury hotel. The 35-seat café, which is a sunny, botanical counterpart to the "starlit" lounge Matilda Midnight, offers a unique menu complete with salads, sandwiches, breakfast, cocktails, and small, shareable plates made with locally sourced ingredients. (Downtown, inside the Dwell Hotel) 
​

ACCOMMODATIONS & MEETING VENUES
Accommodations Opening Soon
Newly Opened Accommodations
RENOVATION/May 2018: RiverView Inn is uniquely set on Lookout Mountain and provides breathtaking views of the Tennessee River. The property is conveniently located minutes away from hiking trails, restaurants, and the popular attractions Rock City, Ruby Falls, Chickamauga-Chattanooga National Military Park, and the Lookout Mountain Incline Railway. (Lookout Mountain)
NEW/Dec. 2017: The new $15 million, 106-room SpringHill Suites by Marriott opened at Exit 11/Ooltewah, TN (about 20 minutes from downtown and 5 minutes from Volkswagen). The five-story hotel includes the Creekside Bar + Grill, swimming pool, fitness center, meeting rooms, complimentary internet, and 1,900 square feet of meeting space with in-house catering. Property by D&S Builders of Sevierville, Tenn. (Hamilton Place)
NEW/Oct. 2017: The 10-story Westin Chattanooga opened in the heart of downtown with scenic views of Lookout and Signal Mountains. Hotel includes 260 luxury guest rooms, 15,000 square feet of versatile indoor event space, Alchemy skybar, Dorato Lobby Bar, fitness studio, and an outdoor heated pool. The hotel is part of an $88 million project that features pedestrian-friendly cobblestone streets, festival & event space, Peet's Coffee, Pinkberry, and Alimentari Cucina e Bar. Property by Chattanooga's DeFoor Brothers Development. (Downtown)
NEW/March 2017: St. Francis Cottage Bed & Breakfast (Hamilton Place) 
NEW/Jan. 2017: En Root House Hostel (renovated an existing space) (Near MLK District)
​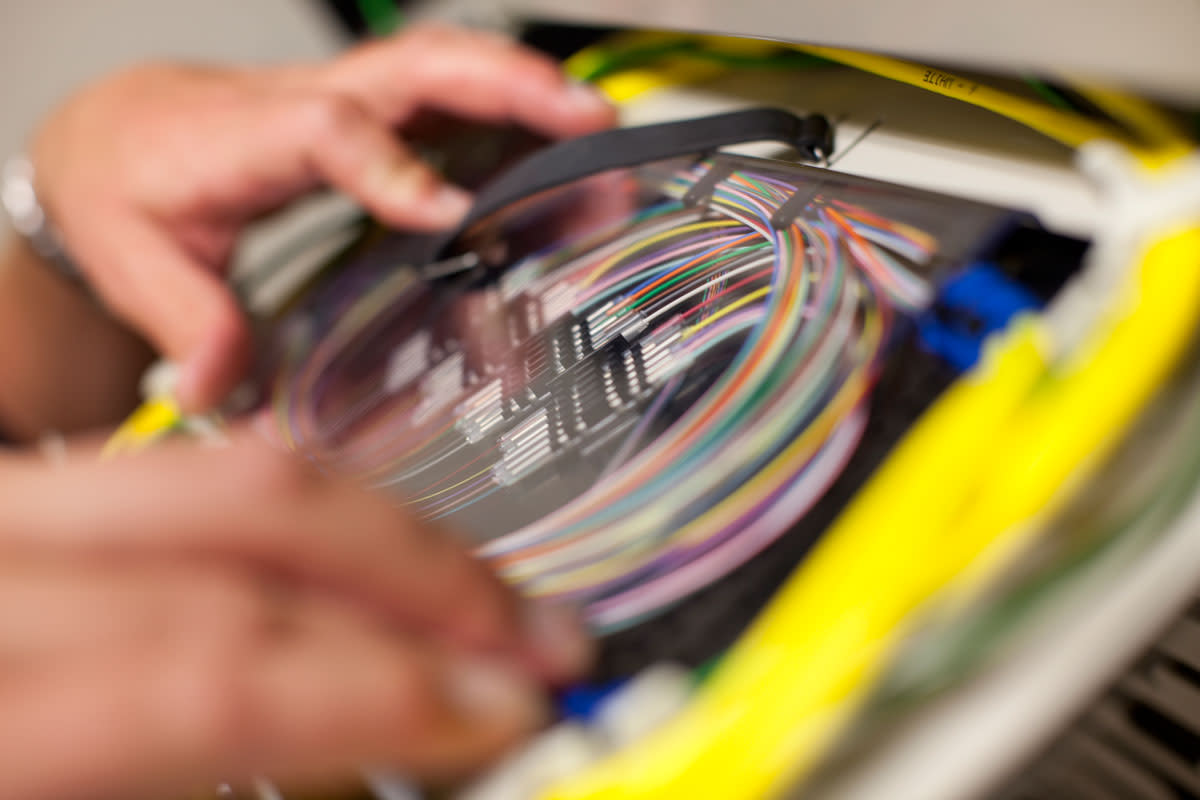 TECHNOLOGY
Chattanooga implements world's first 10 Gig Internet service: Chattanooga is known as the "Gig City" for being the first in the United States (Sept. 2010) to build a community-wide fiber-optic network capable of delivering 1 gigabit Internet speeds to every home and business in a 600 square-mile area. Chattanooga's municipal utility, EPB Fiber Optics, is now offering the world's first 10 gigabit Internet to the same service area (Oct. 2015). This pioneering new solution is the world's most advanced ultra-broadband technology. EPB also constructed the Smart Grid, a next-generation electric system that includes communication capabilities designed to reduce the impact of power outages, improve response time and allow customers greater control of their electric power usage.

DISTRICTS/NEIGHBORHOODS
The West Village Chattanooga is the newly revitalized area between W Martin Luther King Blvd. and 7th Street and Chestnut and Pine Streets, immediately off of Exit 1A. The district brings a European-style experience and offers public art; eateries including Dorato, Alchemy, Alimentari Cucina e Bar, Pinkberry, Peet's Coffee, Innside Restaurant, and Citron et Sel; shopping at Antibes and Elea Blake Cosmetics; and Westin Chattanooga. The West Village hosts a weekly free street festival throughout the year with live music from local bands, cocktails, beer, food trucks, laser light show, and plenty of activities for kids. (Jan. 2018)
The historic Martin Luther King Neighborhood, formerly known as the Big 9, borders the city's central business district and occupies five blocks between Houston and University streets. It's also a part of the Innovation District. The community is listed on the National Register as an area of great historical significance. The MLK area is the birthplace of noted jazz figures Bessie Smith, Yusef Lateef, and Lovie Austin, and has been an area of African American history and commerce for more than 100 years. The neighborhood boasts: the free Levitt-Amp music series; restaurants including Bitter Alibi, Champy's, ODDStory, and Hutton & Smith breweries; music & entertainment venues; Bessie Smith Cultural Center; and public art including the 42,000 square foot "The M.L. King Mural: We Will Not Be Satisfied Until" by world-renowned artist Meg Salignman. [Location: From 3rd to 10th Streets, between Georgia and Central Avenues.]
Chattanooga the first mid-sized city to establish an Innovation District: Chattanooga was the first mid-sized city to establish an Innovation District and remains one of the few cities of its size to have this type of dedicated area. Located in the heart of downtown, the district aims to be the driver of Chattanooga's creative, entrepreneurial 21st century economy. This dense and walkable area contains the Miller Plaza, Miller Park, tech startups, coffee shops, warehouse row, public art, eateries, pubs, parks, Nightfall weekly music series, EPB, Tomorrow Building (micro-living apartments), bike share racks, free electric shuttle, and more. The Edney Innovation Center, a 10-story, 90,000 square foot building, anchors the District and serves as a catalyst for the local entrepreneurial ecosystem. It offers innovative co-working office and event space, accelerator programs, tech and business incubators, and a rooftop access for amazing views of the Scenic City. The designation of the district builds upon numerous individuals and years of work including EPB's construction of the country's most automated smart grid system and powering the city with the world's fastest internet at 10 Gig.