Three Day Romantic Getaway
Day One Morning:
Grab your honey and head to the heart of Chattanooga for some adventure. If you're up for a new experience, hit one of Chattanooga's newest attractions, High Point Climbing and Fitness on Broad Street in downtown Chattanooga. High Point is one of the nation's largest climbing facilities. They can accommodate the experienced or novice climber with their wide variety of walls and rooms. Want to slow things down a bit? The Southern Belle boasts panoramic views of the riverfront and Lookout Mountain aboard a vintage steamboat.  Take a romantic cruise and learn about the Tennessee River's history, legends, and places.
Day One Afternoon:
The Tennessee Aquarium is Chattanooga's must-see attraction boasting penguins, sea otters, giant sturgeon and a butterfly garden. Tickets are good all day and include both buildings, which take a minimum of two hours to explore. It's obviously filled to the brim with kids most days, but a Backstage Pass allows for a quieter, more exclusive view of how the world's largest freshwater aquarium operates. The 11 a.m. tour goes through the River Journey Building, where you'll visit the Q-room and see young animals and fish waiting to go out on exhibit, check out the food prep room to see how diets are prepared daily, and explore the keepers only area above the River Giants exhibit to see huge freshwater fish. A 2:30 p.m. tour explores the Ocean Journey Building and includes a bird's eye view of the penguins, an opportunity to help feed 3,500 fish, and chat with a scuba diver straight out of the shark tank.
After your aquatic adventure, stroll through Chattanooga's impressive Riverwalk area near Ross' Landing then across the Walnut Street Walking Bridge to the historic Northshore district. There are several shops and galleries worth exploring such as Plum Nelly Gift Shop, In-Town Art Gallery and Blue Skies. Be sure to grab a beer and a pretzel at Brewhaus. Their sun-drenched balcony offers one of the best views in the city.
Day One Evening: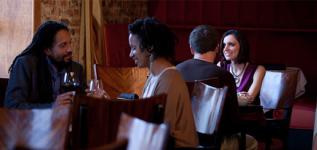 Dedicate your evening to a self-guided downtown food tour. Enjoy appetizers on the popular front porches of either Easy Bistro or Bluewater Grille, both offering fresh seafood and custom cocktails. For dinner, walk to Hennen's for one of the best steaks in town or head up the hill to the Back Inn Café to enjoy a continental menu under the wisteria draped back porch. Finish the evening with coffee and dessert at Rembrandt's Coffee House, a quaint, French stucco cottage featuring artisan chocolates and other sweet treats from the in-house pastry chef.
Top off the evening with a horse drawn carriage ride through downtown. Operating Thursday through Sunday, this 15-minute ride leaves from the semi-circular driveway in front of the Tennessee Aquarium and provides a brief history of Chattanooga's downtown (but drivers cut the chit chat if you prefer silence). Check the website for hours of operation.
Day Two Morning:
Come see what gave the Bluff View Arts District its name with a stroll through The Hunter Museum of American Art. As one of Chattanooga's longest lived nonprofits, the Hunter began in the 1950s in a 1905 classic revival mansion. Today it boasts three buildings perched on 80-foot cliffs above the Tennessee River, the view only rivaled by the works inside, featuring American art from the likes of Winslow Homer, Mary Cassatt and Thomas Cole. Continue this picture perfect tour with a walk through the nationally acclaimed River Gallery Sculpture Garden, recognized by the Smithsonian in its Archive of American Gardens. Maintained by Master Gardeners, perfectly manicured shrubs frame the 20-plus sculptures and breathtaking views of the Tennessee River.
Should you feel inspired to add some art to your personal collection, mosey up to the River Gallery, the Bluff View's first business to open in the early '90s. The small stucco cottage is spilling over with paintings, sculptures, jewelry and pottery from regionally and nationally celebrated artists.
Day Two Afternoon:
Continue the urbane tone of the day with a trip to Warehouse Row, one of the city's finest shopping destinations. Housed in two warehouses dating back to the Civil War, the exposed brick interior is both hip and high end, offering independently owned upscale boutiques. Make him swoon with Egyptian cotton sheets at the Yves Delorme Outlet, woo her with blooms at Lines Orchid (all grown on nearby Signal Mountain), or stroll through Amanda Pinson Jewelry, which features world renowned jewelry lines. If shoes are the way to her heart, stop by Embellish to find Kate Spade, Rupert Sanderson, Bettye Muller, Stuart Weitzman and more.
Top off the experience with lunch at Public House, an upscale Southern bistro that takes fried chicken to new heights. Or, for another take on traditional Southern specialties, try the newly opened Tupelo Honey Cafe which offers transformed southern dishes like Appalachian Egg Rolls or Zippy-De-Do-Dah Sweet and Spicy Pork. Insider tip: Warehouse Row hosts Street Food Thursday, where food trucks park between the two buildings. On Friday you can catch them at nearby Miller Plaza, about a five-minute walk away.
Still Thirsty? Hop onto Chattanooga Pints and Pedals, a two-hour tour of Chattanooga's downtown and Southside pubs and eateries.
Day Two Evening:
Top off your busy day with dinner at Alleia, the third restaurant concept by James Beard nominee Chef Daniel Lindley. The décor is straight out of Manhattan, the menu is inspired by Tuscany but the ingredients are all Chattanooga (whenever possible).
Day Three:
Venturing just outside of Chattanooga opens a floodgate of travel options, all thoughtfully outlined at Discover Tennessee Trails and Byways. Check out the Tanasi Trail or Pie in the Sky routes for suggestions. The destinations are seemingly endless, but one particularly romantic escape is Monteagle.
Day Three Morning:
There's simply no better way to drink in the natural beauty of Monteagle than taking it in by foot. Head to Foster Falls for an easy two-mile hike, located about 20 minutes east of town, down Highway 41. Or tour the picturesque campus of Sewanee: The University of the South, located 15 miles to the west. For more than 150 years, Sewanee has served as a leading liberal arts school and Episcopal seminary. Stately trees, gothic architecture and jewel-box stained glass make for a stunning stroll through the 13,000-acre campus. Just a few miles from campus is the Sewanee Natural Bridge, a 25-foot high natural sandstone arch. Access is an easy walk from the parking lot, but if you're up for a more strenuous hike head to nearby Buggytop Trail, a 4.4-mile hike with waterfalls, wildflowers and curious caves.
Day Three Afternoon:
While in Sewanee, check out the thriving art culture by poking around area shops and galleries such as Lemon Fair, a 40-year-old gallery/gift shop specializing in the "handmade, unusual and magical." Down the street Taylor's Mercantile is a florist/gift store housed in an old, stone general store. Well-known Hallelujah Pottery is worth exploring in Monteagle, as is the I-24 Flea Market, open Saturday and Sunday "daylight to dark."
Day Three Evening:
Unwind for the evening at High Point Restaurant, where the food is as rich as its history. The 1929 stone cottage is rumored to have once belonged to Al Capone's mistress, serving as a popular stopover in his bootlegging operation. But today the food is the star, with nearly 40 entrees ranging from the High Point Oscar, a filet mignon topped with crab meat, asparagus and béarnaise sauce, to the Black Thai Duck, a boneless duck breast crusted with black and white sesame seeds and topped with an Oriental sauce.
Insider tip: Monteagle is about an hour drive, so you'll probably want to get a hotel room.  Jim Oliver's Smokehouse features Log Cabins with jacuzzi tubs & fireplaces, queen & king rooms with big back decks overlooking the serene and beautiful 20 acre campus, fishing lake, and cabins.