Spring Break Safari: Backyard Scientist
What if you could. . .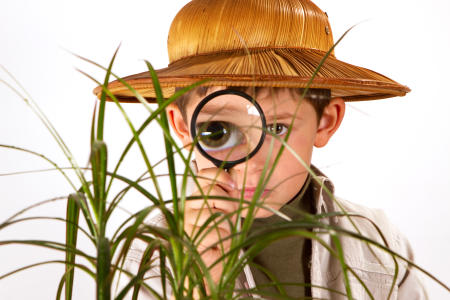 . . . be a Backyard Scientist at the Tennessee Aquarium? The Southeast is home to an astounding array of animals, yet many of them lead secretive lives. Through the eyes of a scientist, kids will get a glimpse into the hidden lives and wonderful adaptations of native and exotic species while exploring the Aquarium's incredible River Journey and Ocean Journey buildings.
Kids can become backyard scientists during spring break as they meet fascinating animals and the experts who care for them. Extra programs will be offered each week between March 9 and April 8 to give youngsters a scientist's view into the hidden lives and wonderful adaptations of the region's creatures. They'll also discover how the Tennessee Aquarium's scientists are saving threatened and endangered animals. Once their curiosity is aroused, kids will see the Aquarium's myriad other animals – from alligators, turtles, and frogs to lemurs, penguins and butterflies – with more inquisitive eyes.

More than one dozen Extraordinary Experience programs are offered FREE each day with Aquarium admission. These short presentations provide even more opportunities for Backyard Scientists to ask questions of and learn from animal experts. Download the FREE Tennessee Aquarium app to see the complete listing of programs. After visiting the Aquarium, budding scientists can further stoke their passion for animals by seeing a new IMAX adventure that offers unprecedented views of the natural marvels they might encounter every day.  
TENNESSEE AQUARIUM IMAX® 3D THEATER
All films are shown on a six-story screen with IMAX with Laser Projection system, a cutting-edge technology that offers a degree of audiovisual clarity, brightness, and precision found in only a few dozen theaters worldwide and unmatched by any movie house within hundreds of miles of Chattanooga. Check website for showtimes.
DETAILS
Dates available: Friday, March 9-Sunday, April 8, 2018.
Free Spring Break Safari Guide: Available at ticketing and all entrances.
Extraordinary Experiences schedule, including new Backyard Scientist programs: Check the Aquarium's website or mobile app for daily times.
IMAX 3D films: Add The Wild Around You 3D or Conquest of the Skies 3D at IMAX for just $8. Special pricing does not include Star Wars: The Last Jedi.
Aquarium hours: Daily, 10 a.m.-6 p.m.

Website  |  Facebook  |  Twitter  |  Instagram  |  YouTube
1 Broad Street, Chattanooga, TN 37402  |  800-262-0695
Go on a scavenger hunt at the Tennessee Aquarium!