Spring Break Safari: Budding Artist
What if you could. . .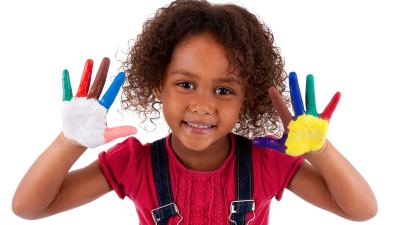 . . . be a Budding Artist and create your own work of art inspired by the exhibitions, collections, and architecture throughout the Hunter Museum of American Art?
Kids can pick-up their very own Spring Break Safari Guide and special Paper Sculpture Artist Kit at Visitor Services and start exploring the paintings, works on paper, sculptures, photography, mixed media, and contemporary studio glass covering a range of styles and periods.
The newest lobby installation and exhibit, Alyson Shotz: Un/Folding, experiments with a variety of materials (plastic, steel, mirrors, and clay) to create exciting artworks using natural forces and deliberate processes.
Through a number of unique forms, Un/Folding takes a broader look at the artist's work from the last 5 years. The two centerpieces of the exhibition are Lexicon, a 20 foot wall installation of folded ceramic forms, and Experiment in Gravity, a large, aluminum, woven sculpture. The pieces in this exhibition investigate folding in space, folding with gravity, and folding as a feminist act.
Stroll through the museum's turn-of-the-century mansion, cruise through the groovy 1970s building, and enjoy amazing views of the Tennessee River from the futuristic contemporary building. Families will find more than just great art in the Hunter Galleries. They'll also catch glimpses of important people, places and events in America's history—like a portrait of George Washington, Andy Warhol's pop art, Nick Cave's Soundsuit, or a landscape by Grandma Moses.
DETAILS
Dates available: Saturday, March 9-Sunday, April 7, 2019
Free Spring Break Safari Guide: Available at Visitor Services or online (after March 1)
New exhibit: Alyson Shotz - Un/Folding, March 1-May 27
Paper Sculpture Artist Kit: Available with ticket at Visitor Services
Cost: $15, adult; Free, 17 and under (with adult admission); Free to members
Hours: Mon., Tues., Fri., Sat., 10 a.m.-5 p.m..; Wed., Sun., Noon-5 p.m.; Thurs., 10 a.m.-8 p.m.
SPRING EVENTS
Hunter Underground: Pop Edition!
March 8, 8-11:30 p.m.
Join us in the transformed Hunter Museum basement for an immersive sensory experience influenced by pop art and the sounds of '80s pop!
ART + ISSUES: An Artful Sense of Space
March 14, 6-7:30 p.m.
For tonight's art + issues we welcome Eric Myers, Executive Director of the Chattanooga Design Studio, and Kim H. White, President and CEO of River City Company, as they lead a community discussion inspired by Alyson Shotz's work in our lobby and by community ideas about our riverfront.
Artful Yoga
March 17, 1:30-2:30 p.m.
Join us for an art inspired yin practicing allowing guidance to come through your practice led by Yoga Landing instructor Adriana Rios.
Un/Folding: An Immersive Live Music Performance By Tim Hink
March 31, 2:30-3:30 p.m.
Local composer Tim Hinck presents a live performance inspired by the new permanent lobby commission and special exhibition of works by Alyson Shotz. Explore Shotz's work while enjoying the live performance response to the exhibition.
Go on a Scavenger Hunt at the Hunter Museum of American Art!