Spring Break Safari: Cave Explorer
What if you could. . .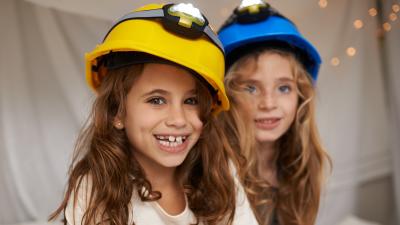 . . . venture underground and be a Cave Explorer inside a deep cavern at Ruby Falls on Lookout Mountain? Journey deep inside the cave's mysterious chambers and listen to tales of folklore and history while learning about rocks and geology and viewing amazing rock formations.
Another name for a cave explorer is speleologist – someone who studies caves, their history, make-up structure, physical properties and how they change over time. As you journey deep underground to Ruby Falls, use your Safari Guide to discover the answers to questions during your cave and waterfall tour. This is a recreational activity of exploring a cave, also known as caving and spelunking. You will be dazzled as your guide shares tales of folklore and history and teaches you about the rocks and geology throughout the cave's mysterious chambers. Ruby Falls is America's deepest cave accessible to the public and has the tallest underground waterfall!

Before your tour, grab your official Spring Break Safari Guide from the Ruby Falls ticket desk. At the end of the tour, show your completed Ruby Falls scavenger hunt page to a staff member at the gift shop and receive a free geode. Geode is cracked open for you to see inside the rock!

DETAILS
Dates available: Friday, March 9-Sunday, April 8, 2018.
Free Spring Break Safari Guide: Available at ticketing.
Regular tour of Ruby Falls: Lasts approximately 1 hour and 15 minutes and includes tour of cave and the waterfall.
One free geode rock per child, cracked open for them to see inside: Available in gift shop following tour.
10% off gift and food purchases.
Hours: Daily, 8 a.m.-8 p.m.
Cost: $11.95/Children; $19.95/Adults.

Website  |  Facebook  | Twitter  | Instagram  | Pinterest  |  YouTube
1720 South Scenic Highway, Chattanooga, TN 37409  |  800-755-7105
Go on a scavenger hunt at Ruby Falls!