Spring Break Safari: Island Explorer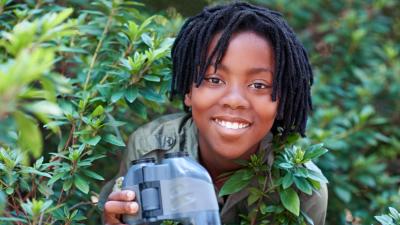 What if you could. . .
. . . be an Island Explorer and meet mysterious Flashlight Fish, colorful reptiles and amphibians, and dazzling tropical and cold-water fishes at the Tennessee Aquarium?
Islands are home to some of the world's most abundant and fascinating creatures. While exploring the new Island Life gallery at the Tennessee Aquarium, kids will meet colorful reptiles and amphibians, mysterious Flashlight Fish, dazzling tropical and cold-water fishes, and more! Under the leadership of Leon the Chameleon, kids will be encouraged to get hands-on while wriggling through anemones like a Clownfish, controlling the action of a lightning-fast lizard's tongue, or posing for pictures while perched atop a sculpture of an ancient tortoise.
Additional programs in both Aquarium buildings will be offered each week between March 15 and April 7 to give youngsters a scientific view of the world's biodiversity hotspots including close encounters with a variety of Southeastern species. They'll also discover how Tennessee Aquarium's scientists are saving threatened and endangered animals. Once their curiosity is aroused, kids will see the Aquarium's myriad other animals – from alligators, turtles, and frogs to lemurs, penguins and butterflies – with more inquisitive eyes.
More than one dozen Daily Animal Programs are offered FREE with Aquarium admission. These short presentations provide even more opportunities for Island Explorers to ask questions of — and learn from — animal experts. Download the FREE Tennessee Aquarium app to see the complete listing of programs. After visiting the Aquarium, guests can further stoke their passion for animals by seeing a new IMAX adventure that offers unprecedented underwater views of the world's oceans or the heart-warming adventures of scientists working to raise baby pandas for life in the wild. 
TENNESSEE AQUARIUM IMAX® 3D THEATER
All films are shown on a six-story screen with IMAX with Laser Projection system, a cutting-edge technology that offers a degree of audiovisual clarity, brightness, and precision found in only a few dozen theaters worldwide and unmatched by any movie house within hundreds of miles of Chattanooga. Check website for showtimes.
DETAILS
Dates available: Friday, March 15 – Sunday, April 7, 2019
Free Spring Break Safari Guide: Available at ticketing, all entrances, or online
Check the Aquarium's website or mobile app for Daily Animal Programs schedule
IMAX 3D films: Add Oceans 3D or Pandas 3D at IMAX for just $8
Tennessee Aquarium hours: Daily, 10 a.m.-6 p.m.

Go on a Scavenger Hunt at the Tennessee Aquarium!

Website  |  Facebook  |  Twitter  |  Instagram  |  YouTube
1 Broad Street, Chattanooga, TN 37402  |  800-262-0695