Spring Break Safari: World Traveler
What if you could. . .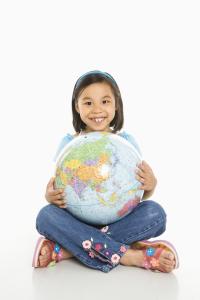 . . . be a World Traveler at the Creative Discovery Museum and play a steel pan from Trinidad & Tobago, dig for dinosaur bones from Canada, and learn to bead in the Native Voices: New England Tribal Families exhibit?
Children can travel the world through numerous hands-on experiences. In Excavation Station, dig for dinosaur bones from Canada, see the scorpion from Western Africa fluoresce, play a Bonang from Indonesia, or practice your percussion skills on a double headed drum from China.
During Spring Break Safari, families will travel to New England and experience the culture and traditions of five Northeastern Native American communities in the traveling exhibit, "Native Voices: New England Tribal Families." Explore the Nuweetooun tribal school, look for animal species in a vernal pool, see a living bog plant, learn about traditional music and dance of a Pow Wow, toboggan down a snowy hill, cook a native Passamaquoddy dish, compete at snowsnake… and so much more!
We are excited to offer Native Voices event days and Native American Artists in Residence! These special events give guests the opportunity to interact with, and understand, indigenous groups through traditions, cultural art forms, music, dancing, and food.
Every day kids can explore the rest of the exciting permanent exhibits throughout the museum which include RiverPlay, Make It Gallery, Little Yellow House, Arts Alley, Excavation Station, Corner Clinic, Buzz Alley, Rooftop Fun Factory, Lookout Tower, Culinary Corner, and much more.
DETAILS
Dates available: Saturday, March 9 – Sunday, April 7, 2019
Free Spring Break Safari Guide: Available at ticketing or online
Special exhibit: Native Voices – New England Tribal Families
Hours: Mon.-Sun., 10 a.m.-5 p.m.
Price: $14.95 per person ages 2 and up (includes admission to the Museum)
Groups: Reservations requested in advance by calling 423-648-6045, Mon.-Fri., 9 a.m.-5 p.m.

SPRING EVENTS
Native Voices event days, Noon-4 p.m.
Saturday, Feb. 23, March 16 & 23, April 13, May 4

Native American Artists in Residence, Noon- 5 p.m.
March 18, 19, 21, & 22: Chickasaw duck decoys with Lakosh (Joshua Hinson), Chickasaw Nation
March 25, 26, 28, & 29: Creek basketry and weaving with Mary Smith, Muscogee (Creek) Nation of Oklahoma
April 29, 30, May 2, & 3: Cherokee woodcarving and basketry with Louise and Butch Goings, Eastern Band of Cherokee Indians

Go on a Scavenger Hunt at the Creative Discovery Museum!
 
Website  |  Facebook  |  Twitter
321 Chestnut Street, Chattanooga, TN 37402  |  423-756-2738