Spring Break Safari: Zookeeper
What if you could. . .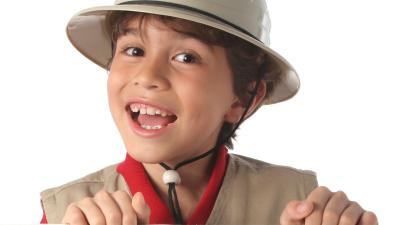 . . . be a Zookeeper at the Chattanooga Zoo? Observe and learn all about the world around us and the wildest creatures that inhabit it. As you explore the Chattanooga Zoo, you will encounter chimpanzees, jaguars, komodo dragons, red pandas, meerkats, and more!

Explore what it's like to be a Zookeeper by observing creatures during the Animal Meet and Greets; chatting with zookeepers to learn about the animals and how they are taken care of; watching the zookeepers train the chimpanzees and why it is important to the chimpanzee's health; touring different areas of the zoo; helping the zookeepers distribute animal enrichment; and so much more.

Exclusively during Spring Break Safari 2018, join the zoo on their daily World Tour (2 p.m. daily) as they take a look at a specific geographical area of the zoo. Learn from the tour guides and zookeepers about the animals that live there, their naturalistic behaviors and survival instincts, and how they encourage the animal's behaviors. World Tour Weekly Schedule: March 9-15 Walkin' the Tracks (North America); March 16-22 Himalayan Passage (Asia); March 23-29 Gombe Forest (Africa); and April 1-8 Corcovado Jungle (South America).

During the WILD Encounter, learn more about zookeeping and wildlife while receiving real interactive zookeeper experience. The WILD Encounter programs offer a behind-the-scenes animal encounter with some of the most exotic and unique animals in the world, including spider monkeys and red pandas. WILD Encounter program pricing varies per animal, and must be booked online in advance. Zoo Tours take you even closer. Choose a carnivore, reptile, or primate tour to experience the zoo and observe the animals from a whole different perspective. The WILD Encounters and Zoo Tours are offered Friday-Sunday and must be booked online in advance.

SCHEDULE (free with regular Zoo admission)
Animal Meet and Greets: Daily, times and locations vary throughout the day.
Keeper Chats: Daily, times and locations vary throughout the day.
Chimpanzee Training: Daily, 1:30 p.m. in the Gombe Forest
FrogWatch USA: Saturday, March 10 and Saturday, April 7 at 6 p.m.
Hug-a-Bunny Days: Friday, March 30 & Saturday, March 31 from 9 a.m.-5 p.m.
Note: All activities will be discontinued on March 30-31 due to the Zoo's annual Hug-a-Bunny days. All activities will presume on April 1.

DETAILS:
Dates available: Friday, March 9-Sunday, April 8, 2018.
Free Spring Break Safari Guide: Available at ticketing.
Animal Meet and Greets, Zookeeper Chats, Chimpanzee Training, and World Tours (Free with regular Zoo admission).
WILD Encounters and the Zoo Tours (require an upgrade fee).
Dates Available: March 9-April 8th (excluding March 30-31 due to special event).
Hours: 9 a.m. – 5 p.m. daily.
Cost: $9.95 for adults; $6.95 for children ages 3-12; children ages 2 and under are free.

Website  |  Facebook  |  Twitter  |  Instagram  |  Pinterest
301 North Holtzclaw Avenue, Chattanooga, TN 37404  |  423-697-1322
Go on a scavenger hunt at the Chattanooga Zoo!